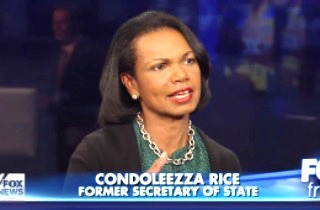 Former Secretary of State Condoleezza Rice sat down for a wide-ranging interview with Fox's Brian Kilmeade this morning in which the two discussed everything from the midterm election results to President Barack Obama's willingness to work with a Republican-dominated Congress, to political ads during the campaign season that had certain racial connotations.
Rice said she was "appalled" by ads run by the Georgia Democratic Party that warned of more Ferguson-like events if Republicans were elected.
While acknowledging that there are still racial tensions in America, she said America is still "the best place on Earth to be a minority" and that the country has made "enormous progress" over the years on race relations.
"The idea that you would play such a card and try fear-mongering among minorities, just because you disagree with Republicans, that they're somehow all racist, I find it appalling, I find it insulting, and as a Republican black woman from the South, I would say to them, 'Really? Is that really the argument that you're going to make in 2014?'"
Responding to Sen. Tim Scott's comments yesterday that he was often told as a kid that he was "not black enough," Rice asked, "what are we doing to our kids when we tell them that our ethnic identity has to make them unsuccessful? That, to me, is really a racist thing to say."
"I've been black all my life," she continued. "You don't have to tell me how to be black."
On a potential Hillary Clinton candidacy, Rice dismissed the idea of voting for her just because she's a woman and said she, rather, evaluates candidates based on their policies and beliefs.
Rice, a Stanford professor, also said she won't run for president in 2016.
Watch the full interview below, via Fox News:
[Image via screengrab]
— —
>>Follow Andrew Desiderio (@forza_desiderio) on Twitter
[Note: Mediaite intern Andrew Desiderio is a student at The George Washington University.]
Have a tip we should know? tips@mediaite.com