Condoleezza Rice Brings RNC Crowd To Its Feet Multiple Times With Stirring Foreign Policy Speech
Condoleezza Rice's Speech Brings RNC Crowd To Its Feet Multiple Times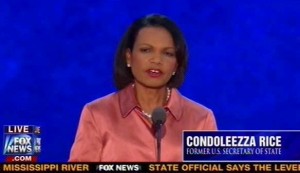 Former Secretary of State Condoleezza Rice appeared at the Republican National Convention on Wednesday where, abandoning the apolitical role she maintained as a Bush administration official, she took on President Barack Obama's foreign policy. Her impassioned speech drew several ovations, particularly when she discussed her background, America's role in the world and when she asserted that the United States did not have the liberty to "lead from behind."

Rice opened up her address by recounting her experience on the morning of 9/11. She transitioned to the economic crisis America faced in September, 2008, which she says America still suffers from the effects of due to economic policies stifling the recovery.
She went on to detail the foreign policy challenges facing the nation today, including revolutions in the Middle East forcing bloody civil wars on their populations. She noted that Syria, Iran, Russia and China all present real security challenges.
"Where does America stand," Rice asked. "When friends or foes alike don't know the answer to that question unambiguously and clearly, the world is likely to be a more dangerous and chaotic place."
"Since World War II, the United States has had an answer to that question," said Rice. "We stand for free peoples and free markets."
"The burdens of leadership have been heavy," Rice continued, noting the sacrifices of America's men and women in the armed services have made since 2001. Rice drew a standing ovation for saying that they are owed "our eternal gratitude."
Rice pivoted to human rights, saying that America has also stood up for "the human rights activist in China" and the "AIDS orphan in Uganda."
"I know, too, that there is a weariness," said Rice. "I know it feels as if we have carried these burdens long enough. But, we can only know that there is no choice because one of two things well happen if we don't lead. Either no one will lead and there will be chaos, or someone will fill the vacuum who does not share our values." Rice drew another standing ovation when she said America "cannot lead from behind."
"Peace really does come through strength," Rice said. "Our military capability and our technological advantage will be safe in Mitt Romney's hands."
Rice said that the U.S. had ratified only three trade agreements under Obama, and those were negotiated under Bush. China had put in place 15 free trade agreements in that time and is negotiating 18 more. "Sadly, we are abandoning the field of free and fair trade and it will come back to haunt us," she said.
Ours has never been a narrative of grievance and entitlement. We have not believed that I am doing poorly because you are doing well. We have not been envious of one another and jealous of each other's success. Ours has been a belief in opportunity and a constant battle – long and hard — to extend the benefits of the American dream to all – without regard to circumstances of birth.

But the American ideal is indeed endangered today. There is no country, no not even a rising China, that can do more harm to us than we can do to ourselves if we fail to accomplish the tasks before us here at home.
Rice called education a "crisis" and said that she could tell by zip code whether or not a good education was in the offing for the residents. "Self-esteem comes from achievement, not from lax standards and false praise," said Rice, outlining the trouble in education. "This is the civil rights issue of our day."
Finally, Rice closed with a personal note – she talked about her background and her family. She talked about her experience growing up in segregated Alabama and growing up to be one of the nation's most powerful civil servants.
A little girl grows up in Jim Crow Birmingham – the most segregated big city in America – her parents can't take her to a movie theater or a restaurant – but they make her believe that even though she can't have a hamburger at the Woolworth's lunch counter – she can be President of the United States and she becomes the Secretary of State.
Watch Rice's speech below via Fox News Channel:
> >Follow Noah Rothman (@Noah_C_Rothman) on Twitter
Have a tip we should know? tips@mediaite.com