Rice Brushes Off Talk Of Possible Future Cabinet Position: I Love Policy, I Don't Love Politics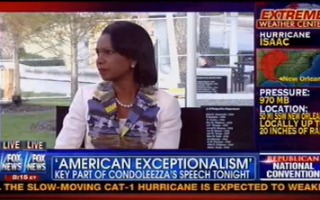 Former Secretary of State Condoleezza Rice stopped by to chat with the hosts of Fox & Friends in Tampa in advance of her RNC speech, which will focus, they shared, on American exceptionalism. Without American leadership, she said, the world is a chaotic place, and so it is important for the U.S. to be unambiguous and unapologetic about its principles and its beliefs in, say, a "free people and free markets."
"The only thing the word hates more than unilateral American leadership," she said, "is no American leadership."
RELATED: David Axelrod Rebuts Romney On White House Connection To Leaks: 'Bunch Of Bellicose Bloviating'
When talked turned to recent intelligence leaks, Rice said that she's been stunned by some of what she's read in the press.
"Everybody understands that a White House will paint a picture of what the president is doing for the American people to see that," said Rice. "But one has to be awfully careful about revealing in any way operations or how things are done because that really does compromise our security. And I don't know the sources of these leaks, but I will say this: They need to stop."
When it was pointed out that the leaks' sources have been " rumored to be very, very high," Rice replied by saying that "wherever they're coming from, stop it."
Rice also shared that she's happy being a Stanford professor, and doesn't necessarily want a cabinet position should Romney be elected president. While she loves policy, she admits she's not so much a fan of politics.
She also didn't think current Secretary of State Hillary Clinton's plans to not attend this year's DNC is much of a story. "Indeed, I didn't go to the convention because the Secretary of State, the Secretary of Defense, Secretary of the Treasury are all officials who carry a kind of nonpartisan brief, if you will," she explained. "So it's absolutely tradition. They are rarely, if ever, at the convention."
Have a look, via Fox News:
Have a tip we should know? tips@mediaite.com