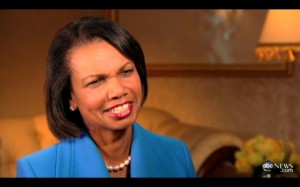 There are probably fewer things scarier in life than an ultra-serious bald man with glasses popping up on a futuristic video conference screen and telling you that you've been exposed to a fatal poison and you're all going to die. That took place in October 2001, when Dick Cheney showed up on a secure line, sharing the bad news with Condoleezza Rice, President Bush, and Andrew Card. Fortunately, Rice survived, and was able to top that event with a scarier, weirder one.
In an interview Tuesday with Nightline's George Stephanopoulos, Rice reveals details of an especially creepy meeting with Moammar Gaddafi. During a visit to Libya, Gaddhafi brought Rice into his personal kitchen, where he showed her a video. "It was actually just a bunch of pictures of me," she told Stephanopoulos. "And he said, 'I had Libya's best composer — most famous composer — write this song for you.'" The name of the tune? "Black Flower in the White House." Rice says she ate quickly and bolted. "I thought, 'This is a really, really strange moment in my time as Secretary of State.'"
As for the poisoning, Bush, Rice, and Card were in Shanghai when Cheney broke the news. "The White House sensors sensed botulinum toxin," Rice recalled, "which is always fatal." For 24 hours, the trio went about their business in China without knowing if they were dying, as tests on the White House samples were being run. "For 24 hours, we were in Shanghai, we did not know the results of those tests," Rice told Stephanopoulos. The tests, naturally, came back negative.
Earlier in the interview, Rice and Stephanopoulos got into foreign policy. She told Stephanopoulos that, "We didn't go to Iraq to bring democracy to the Iraqis. We were very clear about this. This was a security threat."
Enjoy the video below, courtesy of ABC:
Have a tip we should know? tips@mediaite.com