Condoleezza Rice On Republicans And Women: I Don't Always Agree With GOP Platform On 'Social Issues'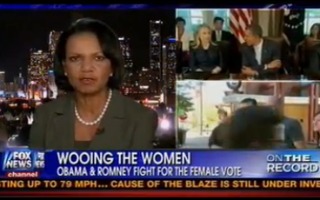 Former Secretary of State Condoleezza Rice appeared on On The Record with Greta Van Susteren Thursday night, where she was asked, among other things, about the Romney/Ryan ticket's record with female voters and on issues relating to women.
Rice revealed that, while she continues to support the Republican ticket and has every faith in Romney's ability to be a leader for all Americans, regardless of gender, she doesn't always find herself aligned with the GOP when it comes to "social issues."
Here's what she had to say:
Women are, of course, mothers of those college students who are unemployed and are not finding jobs despite their brand new minted college degree. And so I find that women are concerned about the very issues to which Governor Romney and Congressman Ryan are speaking.

Now, to the degree that there is concern about what is – can broadly be called the social issues, I would like to say to people that I am not always in agreement with everything that's written in the Republican platform about social issues, but I know that Mitt Romney and Paul Ryan are going to respect the views of those who may disagree on these issues. They are going to take that into account, and I am quite comfortable that those who talk about a war on women are not just engaging in hyperbole. I think it's far worse than that. It is condemning people who are going to be reasonable and who are going to take into account the views of those with whom they do not agree.
Have a look, via Fox News:
Have a tip we should know? tips@mediaite.com