Confessions of a Gay Anchorman: Ex-NY News Anchor Rips Former Station And Colleagues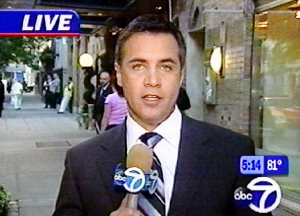 So it turns out one of New York's TV families isn't all smiles like you see in station promos. Charles Perez, a former anchor at WABC, the flagship ABC owned-and-operated station, has written a new book and he's holding nothing back: "WABC was by far the most overstaffed facility I've ever worked in; it was the slowest at doing anything. In addition, nearly everyone, including myself, was paid stupid amounts of money."

New York Daily News columnist Richard Huff reports the targets of Perez's harsh criticism–including former WABC weather anchor and current Good Morning America co-host Sam Champion–were stunned by the contents of his new book, Confessions of a Gay Anchorman. As Huff notes, Perez was not at WABC very long and some insiders have fired back, suggesting his book should be called Confessions of a Bad Anchorman.
Perez left WABC in 2006 for a job at WPLG in Miami (full disclosure: I worked with Charles at WPLG). His time as main anchor in Miami alongside former MSNBC anchor Laurie Jennings ended badly, with Perez filing a complaint with the Miami-Dade County Equal Opportunity Board. According to his new book, even with the problems in Miami, WABC in New York was the first time he ever had trouble "fitting in."
Talking about his time in New York, Perez writes:
"This was new to me. It was like one of those teen movies where the bitchy girls don't let the new girl in. But, in my case, after a while I didn't want to be let in."
Have a tip we should know? [email protected]