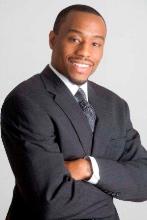 Mediaite has confirmed Marc Lamont Hill has been fired from Fox News Channel. The liberal commentator was a regular on the network, most recently appearing as a guest on The O'Reilly Factor one week ago, according to TV Eyes.
Interestingly, the news was broken by News Corp. Chairman Rupert Murdoch at the companies stockholders meeting today, reported by The Hollywood Reporter.
Murdoch made the announcement after a shareholder asked about Hill's "reputation of defending cop killers and racists."
Hill, who is also currently a professor at Columbia University, recently got into a nasty back-and-forth with conservative author David Horowitz, who called him a "an affirmative action baby." At the time, I wrote:
There are two ways this can go: either FNC can embrace the feud or they have to publicly shun Horowitz. On one level, Hill and Horowitz debating the premise of Horowitz' original column would be incredible television.
Well it looks like the network has gone an entirely different, somewhat surprising direction – firing him. Hill's profile has been on the rise at the network, as his appearances on Bill O'Reilly's show and others in prime time have increased. We've reached out to both Fox News and Hill for more information. There is likely more to this story somewhere.
> Update: That may have been Hill's last appearance on Fox News, but he was on Fox Business Network yesterday, for a short interview during the 1pmET hour (h/t J$).
> Update at 5:40pmET: Hill tweets: "In the words of Hov, "On to the next one"…."
Here is Hill's appearance on The Factor last week:


—–
» Follow Steve Krakauer on Twitter
Have a tip we should know? tips@mediaite.com