'Confused' Bill O'Reilly 'Couldn't Tell Who Was Asking The Questions' During CNN Debate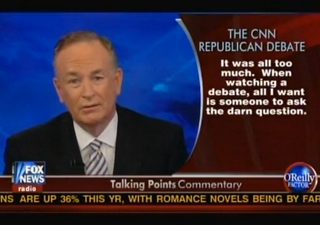 Last night's CNN debate got its fair share of criticism for being a bit jagged around the edges, but Bill O'Reilly put its faults in perhaps the most comically concise words possible. O'Reilly spent his "Talking Points Memo" tonight complaining that he had no idea who was asking the questions during the debate, got no meaningful answers, and was baffled by the overuse of technology.
"I couldn't tell who was asking the questions: Twitter, Facebook, UHaul," O'Reilly griped. "All of a sudden some lady named Martha pops up from Manchester wanting to know why Ron Paul's shirt was too big!" O'Reilly warned CNN that the technology was just not working for him as a "simple man," and that he got little to nothing out of the debate. "When you think of the future, you think of CNN," O'Reilly noted, without the irony that one might expect, but he concluded that "the future" had its time and place, and CNN had tried to reinvent the wheel last night.
The little he did get was that "Mitt Romney looked very presidential," Michele Bachmann looked "very happy," and Newt Gingrich "looked like he had just got out of the hammock." All in all, "two hours of Twitter or Fritter [sic] or something." While he noted, as he did later on in the program, that Rep. Bachmann looked like a good vice presidential candidate, he suggested that Romney "needs a conservative but also needs a Hispanic," apropos of nothing. Perhaps O'Reilly has Sen. Marco Rubio in mind for the position?
The segment via Fox News below:

Have a tip we should know? tips@mediaite.com