Confused Blago Jury Nowhere Near Verdict On 'Any Given Count,' Asks Judge For 'Guidance'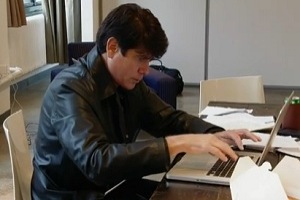 Last Monday, we wondered what could possibly be going on with the corruption trial of America's favorite coif, former Illinois governor Rod Blagojevich. What could be taking them so long? Well, today the tragic hero himself made an appearance at the court, along with his brother Rob, because the jury has told the judge they are unable to agree on "any given count" of the 24 Blagojevich has been charged with.
In light of the developments, Judge James Zagel called the Blagojevich brothers into court, despite the fact that Rod Blagojevich had waived his right to be present during jury questions, NBC recently reported.
Jurors said in a communication to Judge James B. Zagel that they cannot reach agreement on "any given count." The note read in court on Wednesday said the jury is asking for guidance if they can't reach a unanimous decision on at least some counts.

The judge sent a note back to the jury, seeking clarification of "the state of their deliberations." He also reminded them that they can reach unanimous verdicts on some counts even if they cannot on others, NBC's John Yang reported. Jurors are in their eleventh day of trying to reach a verdict. The judge said there is no evidence of rancor in the deliberations. […]

Blagojevich had waived his right to be present for questions from the jury, but Zagel requested that he be present for this hearing.
At this point, the news must be nerve-wracking but certainly not all bad news– if the jury didn't immediately find Blagojevich guilty of everything, there's still a glimmer of hope for chief attorney Sam Adam, Jr. and company that their "silly but not guilty" defense may have worked. Meanwhile, the lawyers and accused have been prohibited from speaking to the press until further notice, or as Adam put it, "permanent for tonight."
Shepard Smith did his trademark report from "Planet Blago" tonight on the case; watch the clip from The Fox Report below:

[Celebrity Apprentice screencap via Chicagoist]
Have a tip we should know? tips@mediaite.com