Facebook IPO Won't Fail, Despite Zuckerberg Being 'Very Socially Awkward', CNN Guest Says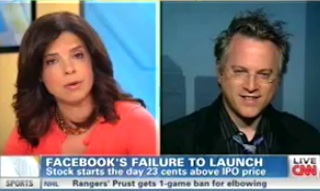 On Monday's Starting Point, the author of the book that formed the basis of The Social Network, Ben Mezrich stopped by CNN to give his analysis of Facebook's troubled IPO launch and Mark Zuckerberg's future as CEO of the social network giant. "He has a swimming pool full of money, he's not a guy that cares that much about money." observed Mezrich. "Really?" interjected Soledad O'Brien.
"He never cared about money in his whole life," Mezrich continued.
"Does he care about success?" O'Brien pressed.
"Yeah, he wants Facebook to be on everyone's computer," Mezrich added. "He wants everyone in the world to be part of Facebook. What is important to him I think is that we all used it every day. So now that he's become an adult CEO of a major company, of course, he has all these people around him who, you know, have to care about this. But him personally? I think it's more about all of us wanting to use Facebook. That's the important thing."
Christine Romans explained that chief Facebook stock underwriter Morgan Stanley was besieged with problems during the social network's opening trading day, which caused shares to be ultimately underwhelming.
"What kind of CEO do you think Mark Zuckerberg will be?" O'Brien asked Mezrich. "Describe him for me, couple words."
"I mean, well, he's going to be strange. He's different. He is an odd guy. he is very socially awkward. We'll keep seeing photos of him looking really strange," Mezrich opined. "But overall I think his megalomania, his belief in Facebook will be a good thing for the company. Overall, I think he'll be a good CEO."
Watch Mezrich's candid analysis of the Facebook CEO below via CNN:

Have a tip we should know? tips@mediaite.com