Congressional Black Caucus Member Savages Obama's White, Male Cabinet Picks: It's 'Embarrassing As Hell'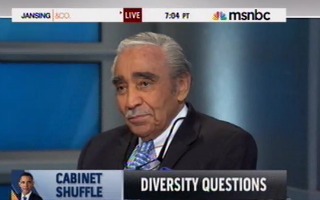 Rep. Charlie Rangel (D-NY) savaged President Barack Obama on MSNBC on Thursday over the lack of diversity among his inner circle of advisors. He said that the Democratic Party was "very hard" on a former Republican presidential nominee Mitt Romney over his "binders full of women" comment because it suggested that the GOP cannot promote from a pool of qualified minorities and women to promote without assistance. This, Rangel said, is why there is "no excuse" for Obama's "embarrassing as hell" Cabinet picks.

RELATED: MSNBC Contributor: GOP To Blame For Obama's White, Male Inner Circle Because They Opposed Susan Rice
"The first black president," MSNBC anchor Chris Jansing began, "and he's getting questions about diversity. Are these questions fair? Are you concerned?"
Rangel replied that he is concerned and the questions about a lack of diversity in the White House are fair.
"It's embarrassing as hell," Rangel said. "We were very hard on Mitt Romney – with his women binder, and a variety of things – and, I kind of think there's no excuse when it's the second term."
Rangel said that there could be "the Harvard problem" at work in this instance. He said that women and minorities simply do not have the access to high ranking officials in Washington and, thus, are rarely promoted to positions of authority.
That said, Rangel thought that, after four years, there was no excuse for the president to not have a qualified stable of minorities and women to promote to high ranking posts in the White House.
"He's had four years to work the bench, to work the second team, so that – in the second term – these people should be just as experienced as any other American," Rangel concluded.
Watch the clip below via MSNBC:
> >Follow Noah Rothman (@Noah_C_Rothman) on Twitter
Have a tip we should know? tips@mediaite.com