Congressman: Obama Warned If Tax Compromise Fails It's The "End Of His Presidency"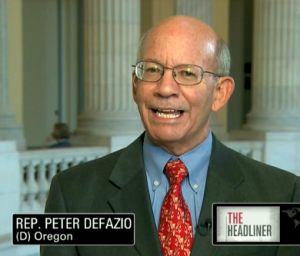 Last night on CNN's Parker Spitzer, Democratic congressman Peter DeFazio appeared and wanted his opposition to President Obama's tax compromise to be heard loud and clear. With the tax compromise very much in jeopardy as liberal members of the House of Representatives are currently in revolt, DeFazio's comments not only ruffled a few feathers in the White House, but they also earned him a return appearance on tonight's Parker Spitzer so that he can clarify his story and provide an update on the status of the bill.
Kathleen Parker called DeFazio a consistent "stick in the mud" for Obama, since he opposed many of the President's past initiatives. And this time DeFazio didn't disappoint, revealing the persuasion he and his fellow members of Congress are allegedly feeling:
The White House is putting on tremendous pressure, making phone calls; the president's making phone calls saying this is the end of his presidency if he doesn't get this bad deal.
Parker smartly followed up with DeFazio, asking if he personally received a phone call from the President. DeFazio responded he had not but that "I talked to one member who had that call." White House spokesperson Amy Brundage immediately attempted to dispel the allegation saying "the President hasn't said anything remotely close to that and he's never talked with DeFazio about the issue."
It would be hard to dispute that the President does not view this tax compromise as vital to his political future, but whether or not he is strong-arming congressman is not clear, and if true, is certainly not something he would want to be publicly known. Let's see tonight if DeFazio sheds any more light on these alleged backroom dealings or if he himself backs off from the rhetoric.
Watch the clip from CNN below:
Have a tip we should know? tips@mediaite.com