Congressmen Spar on CNN: Insurers 'Using Obamacare as Excuse' to Cancel Policies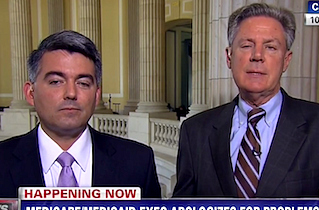 Representatives Cory Gardner (R-CO) and Frank Pallone (D-NJ) stood next to each other for a CNN segment on the House's Affordable Care Act hearings Tuesday morning, but that didn't mean they agreed. After Gardner claimed his individual insurance policy had been cancelled despite promises otherwise, Pallone—of Monkey Court fame—alleged insurance companies were using Obamacare as an excuse to cancel plans.
"I'm one of those Americans who got a letter [of cancellation]," Gardner said. "We have private insurance. We wanted to be in the same boat as all Coloradans. We have a private insurance policy in Colorado that was canceled. I got the same letter that millions of Americans are getting. I would like to hear why [President Barack Obama] told me I could keep it if I liked it, and yet it's being canceled."
"It's not being canceled," Pallone interjected. "That's not true."
"I'll show you my letter," Gardner said.
"If your insurance is being canceled, it's not because of the Affordable Care Act," Pallone said. "The insurance company is not telling the truth!"
"The bottom line is that if you have your insurance, you can keep it," Pallone continued. "What the Affordable Care Act does is expands your options. So if you don't have your insurance or you don't like your insurance, you can get a better policy at a more affordable price. But I know it's true that insurance companies are using this as an excuse. There's nothing we can do about that."
Watch the full clip below, via CNN:
[Image via screengrab]
——
>> Follow Evan McMurry (@evanmcmurry) on Twitter
Have a tip we should know? tips@mediaite.com