Report: CT Shooting Suspect Had Personality Disorder And Autism; Update: Girlfriend Safely Located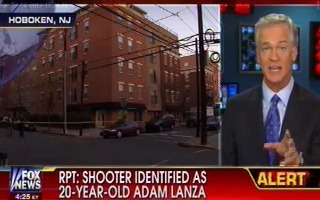 New details are emerging relating to the identity of Adam Lanza, the suspected killer of scores of children and adults alike at a Western Connecticut elementary school on Friday. According to reports broadcast on Fox News Channel, Lanza may have been developmentally disabled and no one has been able to locate his girlfriend.

Fox News Channel's Trace Gallagher reports that Lanza may have suffered from developmental disabilities prior to this explosively violent incident.
He also reported that the weapons used in the assault, two semi-automatic pistols and a rifle – which was left in the vehicle outside the school – may have been registerd to Lanza's mother. Lanza shot and killed his mother in her house in Connecticut before mounting the attack on the school.
Officials told the Associated Press, on the condition of anonymity, confirmed that both Lanza's girlfriend and another friend are missing. The AP also reports that Adam Lanza may have been carrying his older brother Ryan Lanza's identification when he stormed the Connecticut elementary school – leading several media outlets and the police to identify Ryan as the shooting suspect.
UPDATE: ABC News reports that Adam Lanza suffered from personality disorders and may have wrestled with symptoms of autism.
Ryan Lanza, 24, brother of gunman Adam Lanza, 20, tells authorities that his younger brother is autistic, or has Asperger syndrome and a "personality disorder." Neighbors described the younger man to ABC as "odd" and displaying characteristics associated with obsessive-compulsive disorder.
Mediaite columnist Tommy Christopher adds: "It should be noted, however, that despite common reports to the contrary, there is no scientific link between autism and violence. Reporting the disability without reporting this important fact is irresponsible, as it suggests such a link. The research that's sometimes used to support the fallacy ignores the existence of co-morbidities like schizophrenia, among other serious flaws. Read more about that here."
Watch the report below via Fox News Channel:
Update: The Associated Press reports that the "missing" girlfriend has been contacted by police:
One of the officials said earlier Friday that a girlfriend of one of the Lanza brothers and another friend were missing in New Jersey. Subsequently, the third official said police had talked with the girlfriend. One of the friends had to be reached in California, so it took some time.
> >Follow Noah Rothman (@Noah_C_Rothman) on Twitter
Have a tip we should know? tips@mediaite.com