Conservative Activist Pam Geller Fights With Muslim-American Advocate Over Jihad Signs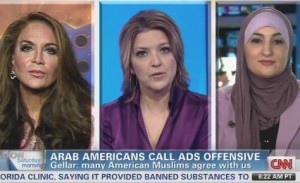 Pamela Geller ran into hot water while discussing her new "anti-Jihad" advertising campaign this morning on CNN. The longtime conservative activist quarreled with Linda Sarsour,a representative from the National Network For Arab American Communities during a segment on CNN Saturday Morning.
Geller's organization America's Freedom Defense Initiative has purchased a series of controversial new advertisements on San Francisco buses and subways that feature quotes from notable members of the global Muslim community. The quotes feature caustic language about Jews and gays along with Jihad imagery.
"Our ads were designed to show the reality of Jihad, showing the actual quotes from high-profile Muslims like the prime minister of Turkey, the Fort Hood Jihadi, the Times Square bomber. To increase awareness about the ideology that sanctions violence and the supremacism of Jihad," she said.
Geller rejects allegations that she is anti-Muslim calling such charges as "deceptive" and a "canard."
Sarsour blasted Geller's ads for including people that she considers out of step with mainstream American Muslims.
"The ads are absurd, they're offensive. You're quoting a man who is a Holocaust denier, he is not an American Muslim. Ms. Geller has a history and track record of vilifying the American Muslim community and pitting communities up against each other," she said, adding that Geller has posted comments and language that are extremely offensive to gays and lesbians.
Geller noted that nobody is actually condemning the homophobic statements in the ads and instead they are attacking her. "My calling attention to this makes me homophobic? No, not calling attention to the plight of gays under the Sharia is killing people. So of course attack me," she said.
"Where is the condemnation of the actual statements that these high profile Muslims are making?" Geller asked.
The ads are necessary in Geller's eyes because the media whitewashes and obscures the "true reality of jihad."
Watch clip below via CNN
Have a tip we should know? tips@mediaite.com