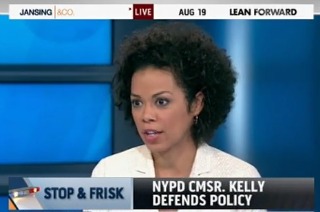 Amy Holmes, former speechwriter for Senate Majority Leader Bill Frist (R-TN) and anchor of Real News on The Blaze TV, ripped New York City's controversial "stop-question-and-frisk" policy in an appearance with MSNBC's Chris Jansing. Holmes said that she believes the policy is racially discriminatory because, in her wealthier and whiter Manhattan neighborhood, criminal behavior is practiced in the open without fear of police reprisal.

Asked by Jansing about "the mistrust that develops between police and the citizens of any given city" which results from policing strategies like "stop-and-frisk," Holmes said that she thinks this is a "huge problem."
"We understand that from 'stop-and-frisk' the majority of arrest — I think over 90 percent — have to do with marijuana possession," Holmes said. "I live in the West Village in New York City, and there's no 'stop-and-frisk' policy there and I could point to you 10 people who were smoking pot openly, and they didn't get arrested."
RELATED: Trayvon Martin's Mother Tells David Gregory: Stop and Frisk Is Racial Profiling
"So, I'm very concerned that 'stop-and-frisk' is targeting certain communities, people of color, in a disproportionate way," Holmes asserted, "and I can tell you, as someone who lives in Manhattan, they could come and find crime in my neighborhood, but they don't because it's frankly where a lot of wealthy white people live."
Later, Holmes asked philosophically why some crimes, like prohibitions on marijuana possession, is worthy of strict enforcement in one neighborhood but not in another.
"If you go down to NYU, why aren't those students being stopped and frisked?" she asked.
Watch the clip below via MSNBC:
> >Follow Noah Rothman (@NoahCRothman) on Twitter
Have a tip we should know? tips@mediaite.com