Conservative Doctor Tells Hannity Why He Spoke Out Against President Obama's Policies To Obama's Face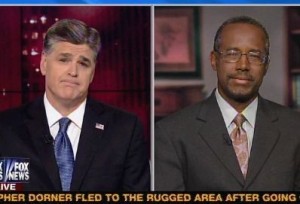 Dr. Benjamin Carson got quite a bit of attention for making a big speech at the National Prayer Breakfast Thursday morning sticking up for conservative principles, with President Obama in attendance. Sean Hannity invited Carson onto his show tonight, remarking that it was an "amazing speech." Carson explained why he felt the need to speak out as he did against the policies of a man sitting mere feet from him.
RELATED: Conservative Doctor Lectures Obama About Health Care, Debt, Tax Reform At Prayer Breakfast
Hannity told Carson that his speech "moved me deeply." Carson said he has received overwhelmingly positive reactions since yesterday, mostly because he believes he did not present a conservative argument, but a "logical," "common-sense" one, remarking "I don't know where we left our brains."
After sharing details from his life story, Carson explained his comments about the "PC police" and political sensitivity. He bemoaned how a nation built on "freedom of speech" is trying to impose restrictions upon what people can say and think, mostly blaming the media for "crucifying people" for innocuous remarks.
In the second part of the interview, Carson talked about the specific issues he raised during his speech. He found it "rare these days for people to speak the truth," saying that a big part of his speech was about how people are simply ignorant of the world around them and allow the media to lecture them instead of thinking for themselves. Hannity asked Carson if he would consider running for president. Carson said it was an option he may consider down the road.
Hannity asked Carson about his comments on the poor state of the economy. Carson clarified that he doesn't want to point fingers, but found it disturbing that politicians have the hubris to declare "my way or the highway." He said he believes "all good ideals don't reside in one party," adding that he would be willing to debate anyone in Obama's administration on the economic situation.
Watch the video below, courtesy of Fox News:
—–
Follow Josh Feldman on Twitter: @feldmaniac
Have a tip we should know? tips@mediaite.com
Josh Feldman - Senior Editor