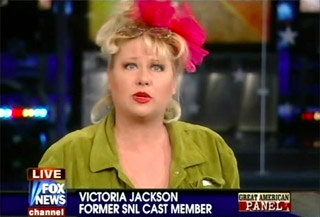 Victoria Jackson, who played such notable recurring SNL characters as "Jenny Baker," a Christian girl who appears on "Church Chat" and "Nancy Maloney," a nightclub singer for The Jungle Room, has announced she will run for a seat on a county commission outside of Nashville, Tenn.
Jackson, who calls herself a tea party conservative, filed as an Independent because she said she's "very disappointed with the Republican Party."
The former comedienne has recently appeared as a conservative commentator on various cable news shows. This past July, during an appearance on Fox's The O'Reilly Factor, Jackson predicted that she's "gonna die soon, because the first thing they do is they kill the Christians or persecute them or jail them."
"I just can't do it anymore; they just don't have the values of our founding fathers anymore," Jackson told The Tennessean of her decision to go against the GOP. "I am sure there are a few Republicans who do. I want less federal government involvement, lower taxes, smaller government, more public involvement, a balanced budget and fiscal responsibility.
In a recent interview with New York magazine, SNL producer Lorne Michaels discussed the unusual number of conservatives to come out of that show over the years, from someone like Jackson to others like Jon Lovitz and Dennis Miller. "Well, let's put Victoria in a separate category," Michaels said. "When she arrived here, she was married to a fire-eater. Then she married an old boyfriend who was a cop. She was always deeply Christian."
RELATED: Lorne Michaels: GOP 'Easier' Target for SNL Because Dems Take Things 'Personally'
Of course, Jackson does have some precedent when it comes to Saturday Night Live actors moving on to successful political careers, though on the other side of the aisle. Before he was Senator Al Franken (D-MN), the comedian was writing for SNL and playing characters like "Stuart Smalley" on screen.
In fact, Jackson actually appeared in a PSA against Franken during his 2008 campaign. Watch the video below, via The Young Turks:
[h/t POLITICO]
[photo via screengrab]
— —
>> Follow Matt Wilstein (@TheMattWilstein) on Twitter
Have a tip we should know? tips@mediaite.com