Conservative Guest Challenges MSNBC: Obama's Behavior 'No Different' from Ted Cruz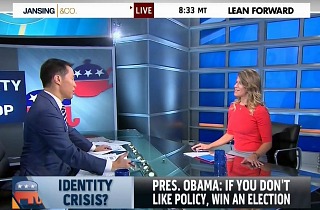 During a discussion on MSNBC on Friday about Sen. Ted Cruz (R-TX), the tea party, and how Republicans can recalibrate their party in order to win national elections, Gretchen Hamel, Executive Director at Public Notice, a fiscally conservative watchdog group, challenged the panel by associating Cruz's tactics and methods with those of President Barack Obama. She said that Obama's post-shutdown news conference was tactically no different from Cruz's methods over the past month.

MSNBC anchor Richard Lui began the segment by playing a clip of Obama advising his Republican opponents to advance their ideas by winning national elections.
"What the president did yesterday is no different than what the – you, know those Ted Cruz have done," Hamel said. "And that is to go out and stake a position."
"The president basically went out yesterday, he spiked the football, he drew a line, and said 'Go win an election and then that's when we'll talk,'" she continued, "That's not leadership."
RELATED: Morning Joe's Message to 'Self-Serving' Ted Cruz: 'It Is Too Late' to Overturn Obamacare
"It's really not the same though, is it, Gretchen?" Lui asked. "He's really saying, 'Look, if you'd like to make change, get elected.'"
"These folks did get elected," Hamel shot back. "It's this who won and who lost in D.C. that has gotten us off of focusing on what the real problem is here. And that is a country that is about to go off a fiscal cliff."
"Be pragmatic and come to the table with solutions instead of just saying, 'No, I'm not going to negotiate because you didn't win,'" she concluded.
Watch the clip below via MSNBC:
[Photo via screen grab ]
— —
> >Follow Noah Rothman (@NoahCRothman) on Twitter
Have a tip we should know? tips@mediaite.com