Conservative Media Site Whines About ABC 'Repeatedly Celebrating' Sam Champion's Gay Marriage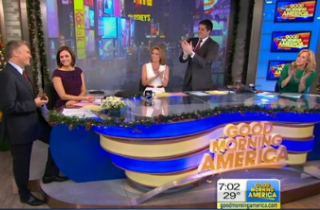 As many of our readers may know, NewsBusters is the blogging arm of Brent Bozell's Media Research Center, an organization dedicated to combating liberal media bias. Oftentimes they make a decent point about journalists leaking their personal biases into to their supposedly "objective" reporting; but many other times, they are just whining about someone doing something they find icky.
Take, for example, today's post from MRC's Director of Media Analysis Tim Graham, in which the latest example of liberal bias is that the cast of ABC's Good Morning America have — gasp! — repeatedly celebrated the love between two men: weather anchor Sam Champion and his husband Rubem Robierb.
Monday's GMA featured co-host Lara Spencer saying, "We have such great news to share with everybody, the best news of all. Sam Champion, everybody, getting married over the weekend."
"No one in America opposes gay marriage, apparently," snarked Graham via his NewsBusters blog post, which included lots of scare-quotes around the word "marriage" when referring to Champion's relationship.
Sure, the GMA clip indicates that Spencer et al have more "liberal" views on homosexuality than the rest of the country — and thus a "bias" of sorts — but are they supposed to cave to the whims of their millions of viewers opposed to gay marriage and sweep the news under the rug and pretend to be disgusted by their friend like you are?
And what do you expect from national TV hosts… in cosmopolitan New York City… when discussing their friend's loving marriage… which is perfectly legal in NY state? The fact that they celebrated his gay marriage shouldn't really be considered political bias so much as just being a good friend.
Graham also has no way of knowing how many of GMA's majority female audience is as deeply disturbed by gay marriage as he is. But the odds are slim that ABC received a slew of phone calls demanding their morning anchors stop applauding one of them homo weddings.
"I will tell you, one of my favorite gifts of the year, being there when Sam and Rubem got married on Friday night," Spencer described the lovely scene. "Just a beautiful moment. Beautiful…. It was very intimate, very special, very heartfelt." Josh Elliott stood and applauded.
So a genuine moment of pride and joy is… LIBRUL BIAS!
Citing ABC World News's mention of the marriage on Saturday, and last Friday's GMA "opening the praise bottle" before the rings were even exchanged, Graham lamented the "repeated" celebration on GMA, as if they are shoving this "sham," gross gay people marriage in his face and he can't just, you know, turn the channel.
There are countless ways to accuse morning show anchors of politically liberal bias, no doubt, but boy do I look forward to the day when conservatives no longer consider TV hosts celebrating the marriage between two men in love to be just a product of their liberal "bias," as opposed to just being decent human beings.
Watch Spencer expose her liberal bias by praising a consensual relationship between two men who got married in a state where such a thing is legal, below via ABC:
— —
>> Follow Andrew Kirell (@AndrewKirell) on Twitter
Have a tip we should know? tips@mediaite.com