Conservative Radio Host and MSNBC Analyst Battle Over 'Media Bias' and Fox News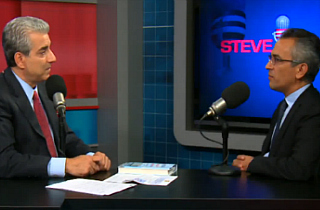 Wednesday morning on NewsmaxTV, conservative host Steve Malzberg squared off against liberal MSNBC analyst Richard Wolffe in a debate over whether the mainstream media has a "liberal bias," despite Fox News' and right-wing talk radio's respective market dominance.
After Malzberg lamented that a liberal-leaning press may have played a role in defeating Mitt Romney's 2012 presidential run, Wolffe shot back: "You sound a lot like a bunch of Democrats did after John Kerry lost in 2004. 'The media was against him, they were for Bush, he needed to be clearer.' It's very, very similar."
Wolffe then added: "This isn't easy for me to say because I work for MSNBC, but, the number-one news channel is Fox News. It's the number-one and yet you still say conservative voices are not being heard."
As the host attempted to interrupt, Wolffe continued:
"What's the number-one selling newspaper in this country? The Wall Street Journal. Owned by Rupert Murdoch as well. Conservative voices are everywhere. You guys are a fast-growing and an important voice and yet you say, somehow, the media isn't reflecting what you guys are doing?"
"So you don't think there's media bias out there?" Malzberg challenged his guest.
"I think there's a conservative media and there's progressive media. And I think conservative media is having a great time out there," Wolffe shot back. He added that conservatives have dominance in the talk-radio market.
Despite Wolffe's assertion that Fox News' dominance renders "liberal media bias" irrelevant, Malzberg explained that some of the anchors have become "left-leaning" and that the network always makes sure to include a "left point-of-view along with the right point-of-view." This, he said, stands in stark contrast to other cable networks: "Who does MSNBC have on the right, among the whole network? How about CNN? Where are the conservatives on CNN?"
From there on, the two went back-and-forth over whether any self-described Republicans on MSNBC actually count as "conservatives."
Watch the full debate below:
— —
>> Follow Andrew Kirell (@AndrewKirell) on Twitter
Have a tip we should know? tips@mediaite.com