Conservative Radio Host Berates Atheist Over Christian Cross at 9/11 Memorial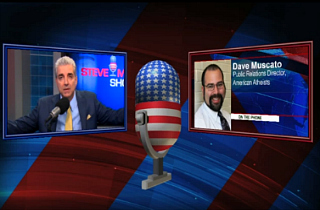 In an interview this week, conservative radio host Steve Malzberg berated American Atheists PR director Steve Muscato over the group's desire to remove a Christian cross from a New Jersey memorial to the victims of the 9/11 terrorist attacks.
The Princeton, N.J., memorial in question has a centerpiece made of a steel beam from the destroyed World Trade Center. When workers cleaned up Ground Zero, they reportedly cut cross-shaped pieces of the beams to give to the victims' families. Atheist groups have fought the city of Princeton's decision to include one of those crosses, citing the fact that the memorial was built on public land with tax money, qualifying as an unconstitutional establishment of religion.
Raw Story has the full details of the battle between the American Atheists and Princeton.
Appearing on NewsMax TV, the atheist group's PR director Muscato took a rebuking from Malzberg, who shouted: "Leave this alone! If you don't like it, don't look at it!"
Malzberg also pushed the atheist guest over why the group would find a cross to be insulting. "Why would it be 'grossly offensive' to have a cross on a 9/11 memorial?" he asked. "Why would it be offensive to you, I want to know this."
"Because it purports to represent everybody who died, as though a Christian symbol can have that effect of representing everybody. That's not appropriate," Muscato explained. "Not everybody who died that day was Christian. If I had died, I would certainly not want a Christian symbol representing a memorial for me."
"It's not your grave, sir!" Malzberg shot back. "It's not your grave!" He then demanded to know how many New Jersey victims' families have sided with the atheists in calling for the removal of the cross.
"If this Jewish firefighter wants this memorial to go up there, and people would like to see it, what business is it yours?" the radio host asked.
"We speak for the Constitution," replied Muscato.
Watch the full exchange below, via NewsMaxTV:

[h/t Raw Story]
[image via screengrab]
— —
>> Follow Andrew Kirell (@AndrewKirell) on Twitter
Have a tip we should know? tips@mediaite.com