Conservative Radio Host: If Dems Want ObamaCare, They Should 'Stop Losing Congressional Elections'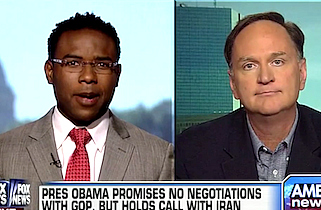 Conservative radio host Michael Graham argued on Fox News Monday morning that if President Barack Obama and Democrats like co-panelist Richard Fowler wanted ObamaCare kept intact by Congress, they should have won a House majority.
"I have a message for all the Democrats like Richard who don't want to deal with Republicans: stop losing congressional elections," Graham said. "You had keep losing congressional elections two cycles in a row. Americans keep electing a Republican majority in the House. It's democracy for you to deal. It is completely intransigent and anti-democratic to say, 'I refuse to deal because I don't like an election.'"
"I'm glad we're having a conversation about elections," Fowler said. "If I remember correctly, the 2012 election was about ObamaCare. There was the Republican guy, Mitt Romney, who said let's repeal ObamaCare, and there was President Obama, who said we will continue to implement ObamaCare. The American people overwhelmingly voted to keep the president in office, not to mention to keep eight Democrat senators and reelect some of them, back to office on the understanding that they would keep ObamaCare in place."
"Now Republicans, even though they lost this election, will do everything in their power to dismantle the law that was checked through Congress, it was checked through the Supreme Court, and now it's time to implement it, they're gonna dismantle it," Fowler said.
"When Republicans win House, that election doesn't count, but President Barack Obama gets reelected over a guy who had his own form of ObamaCare, RomneyCare, that's the only election that counts?" Graham replied. "This is how democracy works. I'm saying to the President: 'Are you prepared to shut down the entire government over a congressional set-aside that rewards your friend, and over a medical device tax that cripples businesses in Massachusetts?' If that's how bad you want it, Mr. President, then you can have it. You can't say the Republicans, who have given up 99%, aren't negotiating."
Watch the full segment below, via Fox News:
[Image via screengrab]
——
>> Follow Evan McMurry (@evanmcmurry) on Twitter
Have a tip we should know? tips@mediaite.com