Conservative Site Slams Roberta Flack & Soledad O'Brien For 'Obama Bump' At Whitney Funeral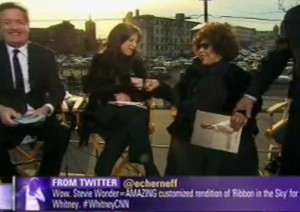 Conservative media watchdog Newsbusters has turned making a left-wing bias out of a molehill into a fine art form, but their working of the ref hit something of a low today. The site is accusing CNN's Soledad O'Brien of "overt partisanship" for accepting an "Obama Bump" from R&B legend Roberta Flack ("Obama Bump" was Flack's term) as the network's coverage of Whitney Houston's funeral tossed to a commercial break.
Here's a clip of the "scandalous" moment, with a little bit extra of the completely apolitical context:
A few weeks ago, Newsbusters' Noel Sheppard keyed off on a Mediaite item about Roland Martin's idiosyncratic exit from O'Brien's stage, and interpreted their shared high-five as an indication of bias against Republican presidential candidate Mitt Romney. O'Brien responded on Twitter that Sheppard's accusation was false, and Martin feuded with Sheppard at length via Twitter.
Earlier today, Soledad O'Brien provided an apparently irresistible opportunity to grind that ax some more. From Newsbusters: (emphasis mine)
After CNN's Soledad O'Brien took some heat a few weeks ago for accepting a high five from Roland Martin as congratulations for skewering Republican presidential candidate Mitt Romney, you'd think she be careful not to demonstrate such overt partisanship while on the air.
Just to be clear, Soledad O'Brien "took some heat a few weeks ago" from Noel Sheppard. He goes on to say:
After Houston's funeral, Morgan and O'Brien interviewed Jesse Jackson and Flack.

Before breaking for a commercial, Jackson got up to shake Morgan and O'Brien's hands saying, "We're going to the cemetery."

Flack then held out her fist saying, "Let's have an Obama bump here."

Morgan and O'Brien obliged with the latter saying, "Absolutely."
Let me get this straight: R&B legend Roberta Flack is wrapping up a segment of remembrances at Whitney Houston's funeral, offers Soledad O'Brien a pound, rather than a handshake, and Ms. O'Brien is supposed to do what? Spit on Roberta Flack because she called it an Obama Bump? Perhaps launch into negotiations? "I will gladly accept your departing gesture, provided you re-moniker it in a less partisan fashion."
The next line would be comical if the entire exercise wasn't so irreverent, so misplaced in its priorities:
As if the President and the First Lady originated this practice.
That's a great point. How on Earth did the fist bump become so closely associated with President Obama? Oh yeah, here's how:
Hmmm, so maybe Roberta Flack and Soledad O'Brien were making some kind of coded tribute to Fox News! Paging Media Matters!
Posting a flimsy blog item isn't, itself, a high crime, but allowing partisan bitterness to intrude needlessly into a solemn occasion is shameful. Newsbusters should have given it a rest today.
This is an opinion piece. The views expressed in this article are those of just the author.