Conservative Teen Opens Up About 'Vile, Vulgar' Reaction To Her Video On Gay Marriage
Conservative Teen Opens Up About 'Vile, Vulgar' Reaction To Video On Gay Marriage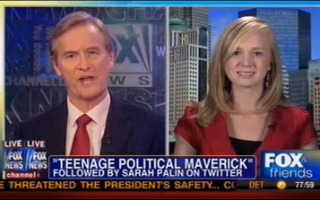 On Wednesday, Fox & Friends host Steve Doocy interviewed a 16-year-old conservative teen on her political beliefs, as well as the backlash she's received for them. "She's conservative, she's christian and she's only 16 years old," said Doocy, introducing Madeleine McAulay. "But when it comes to politics, this North Carolina teenager is certainly not afraid to speak her mind. […] Referred to as the teenage political maverick, it's no surprise that the 16-year-old is being followed by none other than her political idol, Sarah Palin."
RELATED: High School Teacher Tells Student He Can Be Arrested For Criticizing Obama
McAulay described her admiration for Palin, sharing that "For a school assignment, I had to watch her RNC speech and when she walked out, I was just amazed that a wife and a mom could be such a power player within the political world."
Doocy then turned to the reaction the teen received after posting a video about same-sex marriage in her home state on her website, FaithHopeAndPolitics.com.
"Within, I think, two days," she said, "I had over 1,000 views. And, you know, the hatred and the vile, vulgar, disgusting comments started coming in and over the past few days, they have gotten totally extreme and completely inappropriate."
"Well, they are inappropriate," Doocy agreed, "and I was looking at your website last night and, well, there were some death threats there."
"Yes. That was the first time yesterday that I had ever received, you know, kind of death wishes and that was quite interesting, to get that feeling," she told him.
Indeed, in a recent post titled "The Good, the Bad, and the Disgusting," McAulay writes the following:
I am sure many of you have been hearing about the comments I have received regarding my latest news interviews and also my controversial video on gay marriage. The comments have surely been interesting– the good, the bad, and the disgusting. I have been the target of much opposition after the famed Dana Loesch, Adam Baldwin, and several other top Conservatives tweeted about the comments.
Have a look, via Fox News:
Have a tip we should know? tips@mediaite.com