Conservative Twitter Goes Nuts After Clinton Says There's a 'Hillary Standard', and It's Unfair to Her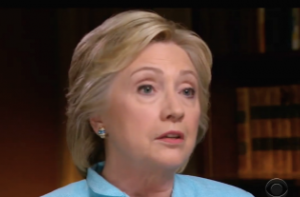 Hillary Clinton says that there is a double standard for law and justice in America, though conservative critics would strongly disagree with her about to whom it is most unfair.
During her sit-down with Scott Pelley on 60 Minutes, the CBS anchor asked Clinton how she felt about those who repeatedly argue that she's a corrupt political elitist who isn't held to normal ethical standards. Clinton attributed all smears about her being "crooked" and "corrupt" to Republicans who are determined to paint her in a negative light to undermine the truth of her political accomplishments.
"I often feel like there's the Hillary standard and then there's the standard for everybody else," Clinton said. When asked to explain, Clinton pointed to the rhetoric against her at the Republican Convention, calling it "unfounded, inaccurate, mean-spirited attacks with no basis in truth, reality, which take on a life of their own."
Now, when it comes to the Benghazi attacks, the private email scandal, and various other matters, there are plenty who say that Clinton operates as though the law is beneath her, even though she has never been found guilty for any specific criminal act. As such, conservatives took notice of Clinton's words, and they were not forgiving.
Cc: GOP ad makers https://t.co/evDLzkDw89

— Guy Benson (@guypbenson) July 25, 2016
We know. https://t.co/YDwIRgWkQU

— Josh Barro (@jbarro) July 24, 2016
Yup. The Hillary Standard allows for consequence free gross negligence where others are prosecuted. https://t.co/qjiv3TT7Pf

— Stacey Lennox (@ScotsFyre) July 24, 2016
Truer words. #HillaryStandard https://t.co/MjkNqAZD6l

— Taylor Gage (@gagetaylor) July 25, 2016
@60Minutes @HillaryClinton I can't imagine what the GOP will do to 1st woman pres after giving hell to 1st black pres.

— Gino Que (@ginoque) July 24, 2016
— Monica Crowley (@MonicaCrowley) July 25, 2016
@60Minutes @HillaryClinton FBI Dir. Comey agrees pic.twitter.com/StIG0ShmGL

— Antonio (@Antonio9847) July 25, 2016
honestly can't wait to see how the RNC blows this layup https://t.co/WUWKs4Mg0U

— andy levy (@andylevy) July 24, 2016
Like the standard where you wantonly disregard email security on top secret stuff and the FBI is like "whatevs." https://t.co/kRj2LtveCI

— Sonny Bunch (@SonnyBunch) July 24, 2016
FBI certainly has a Hillary standard & one for everybody else https://t.co/C6ND0di2e4

— Gray Connolly (@GrayConnolly) July 24, 2016
On that many of us can agree. Hillary does benefit from a different standard. https://t.co/bowAa6Wrrq

— Michael Freeman (@michaelpfreeman) July 24, 2016
She's a sociopath https://t.co/VH9S4Fcv77

— Ben Shapiro (@benshapiro) July 25, 2016
[Image via screengrab]
— —
>> Follow Ken Meyer (@KenMeyer91) on Twitter
Have a tip we should know? tips@mediaite.com