Conservatives Erupt Over Pop Star Adam Levine Muttering 'I Hate This Country' On NBC's The Voice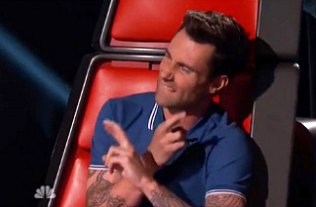 There's never a shortage of things for social conservatives like Fox News radio host Todd Starnes to engage in gratuitous hand-wringing and outrage. NBC's reality singing competition The Voice provided that last night when judge Adam Levine (frontman for mom-rock band Maroon 5) muttered "I hate this country" during the tense elimination round of the show.
The final elimination round of last night's "results" show was a nail-biter, especially for Levine. After his trainee singer Amber Carrington was "saved" by "America" (i.e., the voting viewers of The Voice), he still had two more singers left for possible elimination (spoiler: they were both booted).
Referring to the tense situation at hand and/or the fact that two of his singers were still on the chopping block, the pop icon muttered "I hate this country."
Cue the uproar.
The kings of selective outrage over at Twitchy took to slamming Levine and compiling some of the angry tweets directed at rock's newest "douche"-in-chief, with some taking the rocker's remarks to clearly mean he wants to live elsewhere — like Syria — or that his 2012 Obama support naturally lends itself to hating freedom and America and such.
And the most predictable suspect of them all, Fox radio host Starnes, took to his comedy website personal website to decry Levine's "hatred" of America, connecting the musician's "hot mic" remark to his history of supporting liberal causes.
For someone who claims his reactionary writings contain only the "most accurate information," Starnes sure does a great deal to spin the story to fit his "Obama voters hate America" narrative.
As I've written many times before, Levine is a tiresome pop star with the political wit of a fifth-grader. I've lamented how despite his reminding America of "that obnoxious guy who lived in your dorm hall, walked around shirtless, reeked of Axe body spray, and played generic songs on his guitar with the door open thinking it would attract all the ladies," Levine presses on with his "milquetoast, wholly unoriginal mom-rock" and his banal, overwrought thoughts on politics and the 2012 election.
Suffice it to say: I am no fan of Levine or Maroon 5. But jeez, conservatives like Starnes really should calm down.
Levine's remark was poorly-timed and juvenile, indeed, but it's not the raving rant of some anti-American radical who hates all that this country embodies.
His comment came as a petulant but light-hearted expression of frustration with how so many of his team members were potentially on the losing end of "America's" voting axe. For context: throughout the voting results episodes of The Voice, host Carson Daly repeatedly refers to "America" making "its" choice on who to keep and who to eliminate.
Levine took to Twitter after the show to address his critics, submitting dictionary definitions of "joke" and "humorless" and "misunderstand" to defend himself. "Oh yeah – it was a real chuckle fest," responded finger-wagging Starnes. But uh, yeah, even if it was a dumb joke… it was clearly a jokey, throwaway remark.
We don't see Levine's face as he makes the comment that shocks flag-waving America, but the tension in the room during those final moments of elimination was palpable. His comments were not akin to defiantly burning the American flag on national television; he was just being Adam Levine.
Watch the full controversial moment below (remark at ~1:19), via NBC:
— —
>> Follow Andrew Kirell (@AndrewKirell) on Twitter
Have a tip we should know? tips@mediaite.com