Conservatives Quickly Try to Turn Stephanopoulos into the 'Next Brian Williams'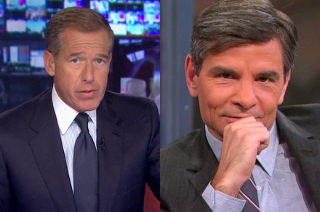 Conservatives smell blood in the water at ABC News after George Stephanopoulos apologized for not disclosing $75,000 in donations to the Clinton Foundation and then said he never should have made the donations in the first place. After Sen. Rand Paul's requested it, he even recused himself from moderating 2016 presidential debates for ABC. Many conservatives now appear to be hoping to take it a step further by trying to turn Stephanopoulos into the "next Brian Williams," except this time with a damning connection to Hillary Clinton.
It started early this morning with tweets like the ones below from Fox News contributor Richard Grenell and others, who declared Stephanopoulos' offense was "worse" than Williams':
Brian Williams only exaggerates. @GStephanopoulos ignores the truth. #Worse https://t.co/XHll5qqieU

— Richard Grenell (@RichardGrenell) May 14, 2015
Trying to decide if this is worse than what Brian Williams did. Feeling like, "yes." @ABC http://t.co/5T3UmWJNlw

— Chris Stigall (@ChrisStigall) May 14, 2015
Worse than Brian Williams, really http://t.co/xxbom8Qg2x

— Allahpundit (@allahpundit) May 14, 2015
Soon, the analogy made its way to The Washington Times, where Joseph Curl asked in big, bold letters, "IS GEORGE STEPHANOPOULOS THE NEXT BRIAN WILLIAMS?"
"With word emerging today that ABC News chief anchor George Stephanopoulos gave '$50,001 to $100,000' to the Clinton Foundation, the network will soon face the Brian Williams Quandary — is its top 'newsman' trustworthy when delivering news," Curl writes (oddly without a question mark at the end).
Later, Curl predicts that this time "the liberal mainstream media likely will not crucify one of its own, as they did Williams," adding, "The fate of the liberal agenda is squarely in the hands of Hillary Clinton, and the MSM will move to protect her in whatever way they must."
In a similar post over on Breitbart, the always entertaining John Nolte takes things even further by arguing that Stephanopoulos' sin of omission when it came to his Clinton Foundation donations is far worse than Williams' sin of commission when it came to his Iraq War experience. (Notably absent from the conservative outrage, of course, were the various allegations made against Bill O'Reilly.)
"What ABC News and their chief political correspondent George Stephanopoulos are guilty of makes Williams and NBC News look like freshly-scrubbed Eagle Scouts," Nolte writes. He implies that ABC's punishment for Stephanopoulos should in turn be harsher than NBC's for Williams.
"How are we supposed to begin to trust an anchorman and news outlet that would cover up such a massive conflict of interest until they were caught — and then engage in Clintonian spin after being caught?" he asks. "For all its sins, at the very least NBC News stood up and took the appropriate action with Brian Williams."
Stephanopoulos was asked to comment on the apparent Brian Williams fabrications during a podcast interview with Alec Baldwin back in March and said he was "surprised" that they made it on air given the various check and balances in place in major newsrooms to catch errors. But, of course, this case isn't about what was said on the air but rather what wasn't.
"We all make mistakes," Stephanopoulos said at the time. "I don't think I would do what he did, in that case, but we all make mistakes — and you realize, it can go," he added, snapping his fingers, "like that."
In a statement, ABC News said, "He's admitted to an honest mistake and apologized for that omission. We stand behind him." By taking himself off of the 2016 debates, Stephanopoulos may have mitigated the damage and preserved his place as host of Good Morning America and This Week.
Whereas Williams lost his credibility among a diverse group of viewers by exaggerating his experience on a largely non-partisan issue, Stephanopoulos has provided ammunition to conservatives, who, based on his history as a senior adviser to Bill Clinton, probably were not his biggest fans in the first place.
Conservative pundits can try to turn him into the "next Brian Williams," but the comparison — while politically enticing — probably won't resonate outside the conservative media bubble.
[Disclosure: Dan Abrams, the founder and publisher of this website, is chief legal analyst at ABC News.]
[Photos via NBC/ABC]
— —
>> Follow Matt Wilstein (@TheMattWilstein) on Twitter
Have a tip we should know? tips@mediaite.com