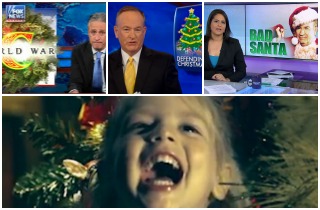 The "War on Christmas." The term inspires powerful emotions among soldiers in the trenches and spectators alike, but this cultural casus belli has yielded little in the way of scientific analysis – until now. The helpful pollsters at Fairleigh Dickenson University have taken the time to test Americans' attitudes toward the so-called crusade to remove religious references from the Christmas holiday. What they found was shocking.

Some aspects of how regular cable watchers view the "War" are fairly predictable. According to the latest FDU poll, regular Fox News Viewers are more likely to be concerned about the increasing secularism of the Christmas holiday than, say, regular watchers of Comedy Central's Daily Show.
Furthermore, Republicans are more apt to say "Merry Christmas" than Democrats who prefer a less religious holiday greeting. But here is where things begin to get interesting. A full two-thirds of all Americans say that they prefer to say "Merry Christmas" while only 15 percent say they prefer to wish their neighbors a "Happy Holidays." Only 15 percent described themselves as indifferent on the issue.
RELATED: The 'War on Christmas' Comes to Israel
When asked if "there has been a concerted effort by politicians to take 'Christ' out of Christmas," 28 percent of respondents agreed, the vast majority of which indicated they agreed "strongly." 40 percent of Republicans agreed with this statement while only 16 percent of Democrats agreed. But conservatives have an unlikely ally in their fight against the "War on Christmas": African-Americans.
27 percent of African-Americans said that politicians are trying to remove religion from holiday events. FDU notes that this result is "11 points higher than among Democrats, and 16 points higher than Hispanics."
"In terms of politics, people tend to think of African-Americans as just being strong Democrats, but that misses a lot of the difference between whites and African-Americans, especially on issued tinged with religion," said FDU political science professor and polling analyst Dan Cassino.
The "War on Christmas" Extends to schools, where 46 percent of Americans disagreed with the idea that all schools should only have non-religious themed events, eliminating staples like Christmas pageants. 36 percent of Democrats agreed with this initiative while 63 percent of Republicans disagreed. Regular MSNBC viewers and Daily Show fans were far more likely than others to agree with this sentiment.
"Similarly, 31 percent of Fox viewers agree that politicians are trying to take 'Christ' out of 'Christmas,' compared with just 25 percent of MSNBC viewers, and 23 percent of Daily Show watchers," the FDU release read.
Cassino concludes by noting that the biggest discrepancies between Americans on religion did not occur between Fox News and MSNBC viewers, but Fox News and Daily Show watchers. More MSNBC viewers than Comedy Central devotees were inclined to agree with conservatives that the religious aspect of the Christmas holiday is under a coordinated assault from the halls of political power.
This FDU survey was conducted from December 9 – 15 of 1,002 adults and has a margin of error of +/- 3.1 percent.
[Photo via screen grab]
— —
> >Follow Noah Rothman (@NoahCRothman) on Twitter
Have a tip we should know? tips@mediaite.com