Conspiracies Abound Roger Goodell Orchestrated Cowboys Win for Future Ratings Bonanza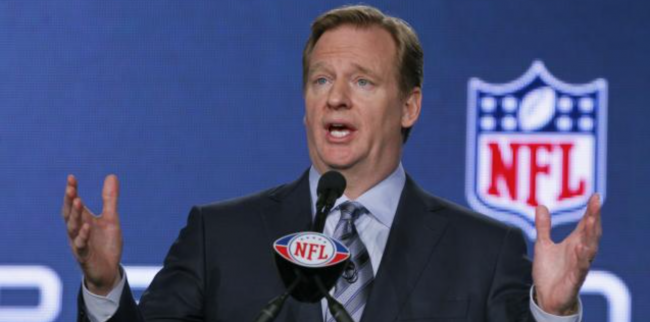 Americans love their conspiracies. That affinity extends into the sports world as well. And following yesterday's controversial and dramatic finish in Dallas to the NFL's Wild Card Weekend, social media to water cooler conversation are buzzing over the interference call that was until it wasn't.
Quick review for the three of you who hasn't seen it: The Cowboys trail by 3 late in the 4th quarter to the underdog Lions. Detroit has the ball and is moving towards with what could be a game-clinching TD but needs to convert on third down to keep the drive alive. Lions QB Matthew Stafford–he of an 0-19 record on the road against winning teams in his career–throws to his tight end Brandon Pettigrew, who is covered tightly by a Dallas linebacker (Anthony Hitchens) with his back turned to the ball. The pass is incomplete but a flag is thrown. Replays clearly show pass interference and the refs announce the call to an already-tense Dallas crowd of over 90,000.
But then–completely out of nowhere–the call is reversed. No real explanation is given except a quick announcement of there being no violation on the play. Dallas gets the ball back and Tony Romo–he of a 1-6 record in win-or-go-home-games going into this one–leads a dramatic drive to essentially win the game: Dallas 24, Detroit 20.
So how does this qualify as a media column? Here's how: When the overnight numbers (ratings) come out this afternoon, it is almost guaranteed this game will go down as the most-watched Wild Card playoff game in NFL history. And it's not because the Detroit Lions were involved. Love 'em or hate 'em, the Cowboys are still America's Team. The team draws interest like no other, with a majority of those tuning in doing so specifically to root against them. It could be the tradition, it could be the ubiquitous owner and his new BFF, it could be the quarterback (who put to bed any criticism around his physical and mental prowess once and for all Sunday afternoon)…but whatever the reason, folks simply love to hate the Cowboys, which results in big ratings whenever they play.
All of that said, which matchup do you think the league thinks is best for business next weekend? Panthers (a team that doesn't even own a winning record) at Packers or Cowboys at Packers? Cam Newton vs. Aaron Rodgers or Romo-Rodgers? And the NFL ridding itself of the non-descript Lions with no national following (non-descript being unfair considering players like Calvin Johnson and Stafford are on its roster) can't be a bad thing, either. So you can only imagine some of the reactions on Twitter when that pass interference flag was picked up so long after the call was made:
Hahahahahahahaha! RT @schmittyyyy: @plaxicoburress Rodger Goodell has informed the Packers that they lost next week. The Cowboys advance.

— Plaxico Burress (@plaxicoburress) January 5, 2015
So if I got this right, Goodell masterminded Cowboys win, faked moon landing, shot JFK, hid Hoffa's body, runs Area 51 & engineered AIDS

— Jake Ciely (@allinkid) January 5, 2015
Twitter blowing up with upset fans who spotted NFL commissioner Roger Goodell celebrating in suite with Cowboys owner Jerry Jones.

— 105.7FM The Fan (@1057FMTheFan) January 5, 2015
Can Anybody other than a Cowboy fan explain that call?!

— Samuel L. Jackson (@SamuelLJackson) January 5, 2015
This isn't the first time Goodell has been accused of using his power to help sway an outcome. Back in Super Bowl XLVII, the commissioner was actually accused of shutting the power off at the Superdome to allow the 49ers to compose themselves after falling behind Baltimore, 28-6 (a game the Ravens would barely hang on to win). And we're not just talking of a few randoms on Twitter, but an actual star player who believed this. Here's Ravens All-Pro linebacker Terrell Suggs' take:
"I was like Vegas, parlor tricks, you know what I mean?" Suggs told Lisa Salters of ESPN. "I was like, ahh, Roger Goodell, he never stops, he always has something up his sleeve. He just couldn't let us have this one in a landslide, huh?"
When asked whether he really thought Goodell was behind the blackout, Suggs immediately replied, "Most definitely, I thought he had a hand in it."
So the NFL gets its dream Divisional Round matchup next week on the frozen tundra when America's Team travels to Lambeau to battle Rodgers and the high-flying Packers. Did Goodell help orchestrate the outcome on Sunday? Of course not. He's getting paid nearly $50 million this year regardless of how far Dallas goes. Besides, if you watched that game in its entirety, you would have seen plenty of bad calls or non-calls that didn't go the Cowboys way early on. And most notably, Lions star defensive tackle Ndamukong Suh's suspension wouldn't have been overturned if helping the Cowboys win their first playoff game in five years was the objective of the league office.
Poor officiating, yes. Fixed fight? Hey, we all love our conspiracies no matter how ridiculous they may be.
[image via Screengrab]
— —
>> Follow Joe Concha on Twitter @JoeConchaTV
Have a tip we should know? tips@mediaite.com