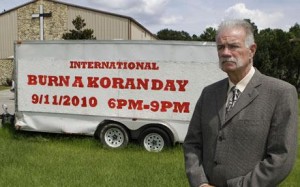 While many have condemned the planned Koran burning by Pastor Terry Jones and Hillary Clinton went so far as to ask the media to stop covering it. It seems that Fox News is the only network that has decided to do just that saying it will not cover the burning of the Koran.
Michael Clemente, the network's senior vice president, explained the decision, saying that there are "more important things" going on.
From Z on TV:
"'We do not cover every flag burning that happens in this country. We don't run every hostage tape,' Michael Clemente, senior vice president at Fox News, said in a phone interview with the Sun Thursday. 'If we tried to cover everyone who wants us to stick a camera in front of them, we'd run out of cameras pretty fast each day. But this is really about just using some judgment.'

Clemente summarized that judgment by saying: "He's one guy in the middle of the woods with 50 people in his congregation who's decided to try, I gather, to bring some attention to himself by saying he's going to burn a Quran if he gets the permit. Well, you know what, there are many more important things going on in the world than that. I don't know what they will be this weekend, but I am sure they will be more important than that."

Clemente said there will be no live coverage, no 'video' or 'still pictures.'"
Thus far the Koran burning story has not been completely absent from the cable channel, with references to it made as recently as this afternoon. However, with the help of our friends at TV Eyes, we can see that they have mentioned it far less than MSNBC, HLN, and CNN. The following chart looks at the time periods between 12 AM on September 5th and 11:59 PM last night:


Terms Mentioned

Fox News
HLN
MSNBC
CNN
"Koran+Burning"
8
39
51
54
"Terry Jones"
9
17
26
31
Total
17
56
77
85
It's interesting to speculate on what exactly was the initial deciding factor in the decision not to spend time on this story over at Fox News. Their avoidance of the subject can be traced back to last week before the outcry in Washington and shortly after a story on The O'Reilly Factor appeared to be defending the network against claims of an anti-Muslim bias by arguing that there is no anti-Muslim bias in this country at all.
In the larger sense, this is a tough issue for all news outlets. On one hand, you have politicians and military officials warning that it will endanger troops. On the other, this is clearly something that has caught ahold of the public's attention. There's is no easy answer here.
UPDATE: Interestingly enough, during Pastor Terry Jones announcement earlier, both MSNBC and CNN cut in to show it live while Fox News remained with a Glenn Beck rerun. While this probably helped those networks with remote control flips, they also had the unenviable position of scrambling to figure out the veracity of Jones' Park 51 claims. This lack of coverage is looking more and more like a brilliant move on Fox's part who has managed to avoid the circus.
Have a tip we should know? tips@mediaite.com