Contradicting Obama Again? Bill Clinton Tells CNBC That Congress Should Extend All Tax Cuts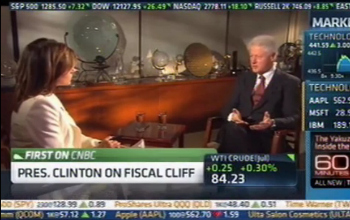 On Tuesday's edition of CNBC's Closing Bell, former President Bill Clinton told host
Maria Bartiromo that in order to avoid a fiscal cliff, Congress must extend all tax cuts set to expire at the end of this year. This somewhat contradicts some of President Obama's official tax positions, and serves as another contradictory moment for like last week's praising of Mitt Romney's "sterling" business career at Bain Capital.
In a wide-ranging interview, Clinton told Bartiromo that the American economy is truly in recession and that the Republican plans to cut the deficit would only worsen the debt and recession conditions. Bartiromo took the opportunity to ask Clinton whether extending tax cuts would help avoid the "fiscal cliff" the American economy faces.
At first, Clinton avoided a direct response, saying that "What I think [Congress] should do is find a way to keep the expansion going." He cited Germany and smaller Euro-zone countries who have high unemployment but are working "to figured out a way to promote growth."
– RELATED: Bill Clinton Praises Romney's 'Sterling' Business Career: We Shouldn't Say It's 'Bad Work'
"What I think we need to do is to find some way to avoid the fiscal cliff," he continued, "to avoid doing anything that would contract the economy now, and then deal with what's necessary in the long-term debt reduction plan as soon as they can, which presumably will be after the election."
Bartiromo then pressed the former president: "So does that mean extending the tax cuts?"
"Well, I think what it means is they will have extend– they will probably have to put everything off until early next year," Clinton said. "That's probably the best thing to do right now. But the Republicans don't want to do that unless he agrees to extend the tax cuts permanently, including for upper-income people, and I don't think the president should do that."
Those tax cuts include the ones known as "the Bush tax cuts," which have been criticized by Democrats and the White House as unequivocally favoring upper-income earners. Clinton said he thinks it best for Congress to agree on a temporary extension of such tax cuts, so as to avoid any further economic contraction.
This is a slight contradiction of the current White House policy, which has continually fought to end the Bush tax cuts and impose what Obama has called "the Buffett Rule," a surtax levied on millionaires.
Clinton, however, did maintain his distance from Republicans who want to permanently extend the Bush cuts, saying that "the real issue is whether the price the Republican House will put on [entitlement spending] extension is the permanent extension of the tax cuts, which I think is an error."
Check out the clip below, via CNBC:
>> Follow Andrew Kirell (@AndrewKirell) on Twitter
Have a tip we should know? tips@mediaite.com