Controversial Anti-Abortion Sign Claims "The Most Dangerous Place For An African American Is In The Womb" (UPDATE)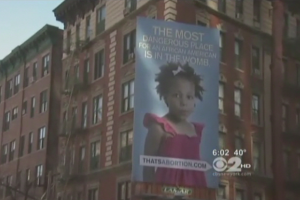 Well, the abortion debate has flared up again (hooray!) thanks to a push by Conservatives to take away government funding to Planned Parenthood, the DEMONIC ABORTION FACTORY or, if you're not so politically inclined, organization that provides a number of health services including, yes, abortions. And to further add of a conversation that is always filled with completely calm and rational discourse, an anti-abortion group has put up a big billboard in New York's SoHo neighborhood featuring a picture of a scared-looking black girl and the caption "The most dangerous place for an African American is in the womb." Shockingly, some people aren't thrilled.
The billboard is funded by the group Life Always and works off a statistic from the NYC Health Department that shows that blacks had the highest number of abortions in 2009. They made the choice to put it in SoHo because, as Life Always' Pastor Stephen Broden explained that, if they had "put it in Harlem, [they] would have been ignored." Aw, come on Pastor Steve, there's no need to be humble! I'm sure your sign would have gotten noticed in most places.
Planned Parenthood took time out from drinking blood or whatever it is they do in between ALL THE ABORTIONS to issue this statement about the sign:
"Planned Parenthood of New York City finds the billboard erected at the corner of 6th Avenue and Watts Street in Manhattan to be an offensive and condescending effort to stigmatize and shame African-American women while attempting to discredit the work of Planned Parenthood.

This coordinated national campaign spearheaded by a Texas group is a reprehensible tactic. Planned Parenthood knows that every woman, of every background, takes her health decisions seriously and makes deeply personal decisions after consulting with her doctor and with loved ones she trusts."
For now, the billboard will remain up and, as always, the abortion debate will remain nice and classy.
UPDATE: Hey, remember when I said the billboard will remain up? You know, in the line right above this one? Yeah, well…nope.
"Dear Colleagues and Affiliates,
It is with great joy that I write to report that Lamar Outdoor Advertising has agreed to pull the billboard on 6th Ave and Watts depicting an African-American girl with the disturbing tagline "The most dangerous place for African Americans is in the Womb" TODAY.

Following a letter to Peter Costanza, Vice President and General Manager of LaMar Billboards, written by the Women of Color Policy Network, NYU Wagner, Mr. Costanza responded affirmatively that they would remove the billboard. I truly believe that our collective quick action, phone calls and letters to the company are directly responsible for their decision to pull the ad.

However, we must remain vigilant. Life Always is committed to spreading the campaign throughout country and there are continued threats to access to the full range of reproductive health services for low-income women and communities.

This billboard is only one of the many attacks on reproductive freedom and services for low-income women across the country. Both the House and Presidential budgets propose to eliminate critical funding to programs that provide services to women and families.

Please join us in taking action against the cuts to these programs by contacting your Senators and telling them to reject the House and Presidential budget cuts.

To learn more about the detrimental impact of the proposed social spending cuts included in both the House and Presidential budget proposals, please read the Women of Color Policy Network's policy brief on the issue. The brief, which can be accessed by clicking here, emphasizes the need to invest in the economic security of women of color and their families, especially in times of economic distress.

Thank you for your continued support,

C. Nicole Mason, PhD
Assistant Research Professor
Executive Director
Women of Color Policy Network
Robert F. Wagner Graduate School of Public Service"
Watch a video report on the sign from CBS 2 below:
Have a tip we should know? tips@mediaite.com