Conway Complains About CNN Ignoring Clinton Accusers An Hour After They Interviewed Juanita Broaddrick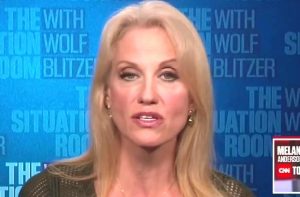 Republican presidential candidate Donald Trump campaign manager Kellyanne Conway complained on CNN Monday that the media was obsessing over the women accusing Trump of sexual assault, but ignoring the similar allegations that have been made against Bill Clinton.
"These women got nearly no air-time compared to the air-time that was given on CNN and other places, to the accusers of Donald Trump," complained Conway to Wolf Blitzer. "It's simply unfair and its unbalanced."
Blitzer pushed back at that argument, noting that the Clinton accusations got nonstop news coverage when they were fresh. "I was CNN's Senior White House Correspondent in 1998, 1999, 2000, when these women… got tons and tons and tons of air-time," he said.
But Blitzer didn't need to go that far back. Conway chose a particularly poor time to make that argument, since CNN had just broadcasted a new interview with Clinton accuser Juanita Broaddrick only an hour earlier.
After Jake Tapper spent around four minutes reporting on the recent allegations against Trump, he spent an equal amount of time covering Broaddrick's accusation that Bill Clinton raped her in a Little Rock hotel. Tapper's segment included clips of Broaddrick tearfully telling her story for the first time in 1999, as well as a new interview prerecorded for the segment.
"How dare she tweet something like that after what she did to me 38 years ago?" Broaddrick tore into Hillary Clinton for her tweet that all rape accusers have "a right to be believed". "How dare she?"
Watch above, via CNN.
[Image via screengrab]
—
>>Follow Alex Griswold (@HashtagGriswold) on Twitter
Have a tip we should know? [email protected]