Conway Complains to CNN's Keilar That She's Taking Trump's Clinton-in-Jail Remarks 'Literally'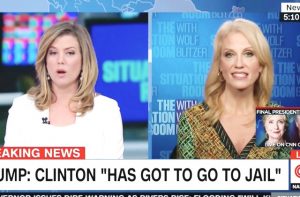 Donald Trump said today that Hillary Clinton will be in jail if he wins. CNN's Brianna Keilar grilled Trump campaign manager Kellyanne Conway today. Conway said she shouldn't take it "literally."
In an extremely uncomfortable interview on CNN this afternoon, Keilar repeatedly pressed Conway on why Trump would say something as stunning as that, basically "talking about going around the democratic process."
Conway complained that she's "taking it literally" and doesn't understand why CNN is covering this.
Keiler said, "He's saying she has to go to jail." Conway responded, "And?"
They kept arguing back and forth about this, Conway complained about media bias, and she also asked why no one talks about Hillary Clinton's problems.
Oh, and then Keilar decided to ask Conway why in God's name the Republican candidate for President of the United States is "attacking" the Republican Speaker of the House.
Conway again complained about the media picking out that soundbite and saying that Trump didn't talk at all about Paul Ryan at his second rally did. Keilar patiently explained that Trump mentioned him at his other rally today and doesn't get points for keeping his mouth shut on any given topic for an hour.
Conway complained again that Keilar and the media has no idea what the themes of Trump's speeches are and declared, "You're doing a disservice to the American people!"
(And this was only part one…)
Watch above, via CNN.
[image via screengrab]
— —
Follow Josh Feldman on Twitter: @feldmaniac
Have a tip we should know? tips@mediaite.com
Josh Feldman - Senior Editor