'CookieGate' Baker Tells Lawrence O'Donnell: 'I Was Just Dumbfounded' By Romney's Comment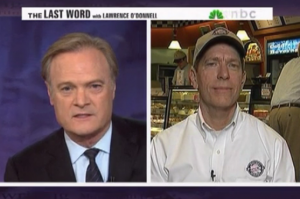 At the end of his show on Thursday, Lawrence O'Donnell addressed the source of political outrage du jour: CookieGate. O'Donnell spoke to the baker himself, John Walsh. "I was dumbfounded," Walsh said — adding that everyone at Bethel Bakery was very excited about Mitt Romney's visit.
RELATED: Mitt Romney Heckles Beloved Bakery, Says Cookies 'Came From The Local 7-Eleven'
Asked about how he felt when Romney said the cookies came from a 7-Eleven, Walsh said, "I couldn't believe it. I was shocked. I just was dumbfounded." They were all quite excited, he said. Adding that the cookies were likely well-received, he said the comment still surprised them.
O'Donnell said: "John, you're a Republican, a small businessman. He's talking about you in every one of his speeches he's reading in that teleprompter. He's celebrating you, you are the American hero, the small businessman. What do you make of how sincere that talk sounds to you now?"
Walsh replied, "Well, I think that the comment he made was really a simple naive, an icebreaker.
"But, John," O'Donnell said. "In what place in the world do you break the ice by insulting what has been presented to you by your host? That's the part I don't get. I have never heard of anyone doing that."
"Well, certainly he was — made a mistake," Walsh said. "And we would like to have him come back so he can really have the best taste of Bethel Bakery again."
"Would you make him something special if he came back?" O'Donnell asked. Walsh replied, "Oh, absolutely. Any size. Any shape."
On the plus side, Walsh said the bakery got an influx of customers due to the CookieGate special.
Take a look, via MSNBC:

Have a tip we should know? tips@mediaite.com