Cool-As-Ice Teenager Gives Perhaps The Greatest 'Final Jeopardy' Answer Ever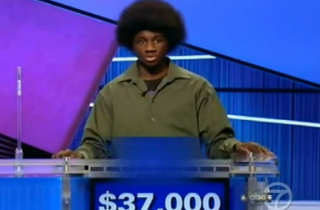 While much of America was busy viewing the lead-up to President Obama's fourth State of the Union and/or the gruesome firefight between police and alleged cop-killer Chris Dorner, teenager Leonard Cooper was busy winning the Jeopardy! Teen Tournament finals in perhaps the greatest fashion ever.
Not only does Leonard have fantastic hair and a voice that is smooth-as-butter voice and will one day sound like Barry White's, he's also wittier than any Jeopardy! contestant we've seen in years.
Throughout the tournament, the ice-cold Leonard made a mess of the competition, at one point betting all $18,000 of his winnings on a Daily Double like it was nothing. Of course, that wager was successful, and he accrued a massive pot. But his most badass moment came in the tournament's final round.
"On June 6, 1944, he said, 'The eyes of the world are upon you,' was the final clue… and $75,000 was the guaranteed jackpot for the teen who finished in first place. The answer, of course, was: Dwight D. Eisenhower.
One of the other nerds got the answer correct, and his total winnings skyrocketed. Things seemed tense for everyone in the room except Leonard, who grinned widely as Alex Trebek checked his answer.
So did he get it right? No. He had no friggin' clue. But that doesn't matter.
His guess?
"Who is… some guy in Normandy. But I just won $75,000!"
The dude was so confident he was going to win, he pretty much phoned in the final answer because, whatever, I'm about to win a crap-load of cash.
We salute you, Leonard. If only all Jeopardy! contestants were an eighth as cool as you are.
Watch below, via ABC:
[h/t NowThisNews]
Have a tip we should know? tips@mediaite.com