Anderson Cooper Calls Out GOP Senator: You Have 'Very Scary Hypotheticals' But No Proof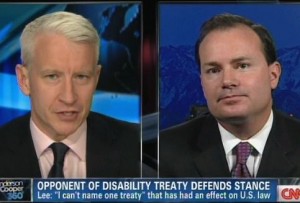 It was very surprising for many this week to see such widespread conservative opposition to the U.N. disability treaty, despite support from Republicans like John McCain and Bob Dole. Anderson Cooper confronted Republican senator Mike Lee over his opposition to the treaty, repeatedly pressing Lee to cite any examples of the United Nations being able to impose its will on American citizens.
RELATED: Stewart Rips GOP: 'They Hate The United Nations More Than They Like Helping People In Wheelchairs'
Cooper pressed Lee to explain how approving the treaty would change U.S. law, despite legal claims to the contrary that it would not. Lee cited a provision in the treaty granting international "entitlement rights," and another provision that he believed would "undermine the rights of parents." When Lee said that there is an abortion plank in the treaty, Cooper challenged him by saying it only grants the same health care rights to the disabled as everyone else overseas.
Cooper said that the treaty is non-self-obligating, therefore there is nothing mandatory that has to be enforced. Lee insisted it still has an impact, warning about how parts of the treaty could have a long-standing impact on U.S. law.
Cooper challenged Lee to name any other U.S. treaty that has had such an impact. Lee said he "didn't come prepared to cite Supreme Court precedent on this point," to which Cooper further insisted that Lee was merely positing "very scary hypotheticals" with no evidence to back up his claims. Cooper repeatedly pushed Lee to name another treaty to impact U.S. law, explaining that Lee arguing the point on the Senate floor should have prepared him for this line of questioning.
Lee touted the U.S. disabilities act as the "gold standard," and made it clear that he just has a general opposition to the United States getting on board with treaties that have nothing to do with international relations. Cooper brought up the criticism that the only reason the GOP voted against the treaty is that they hate the United Nations.
Lee said the fact that the U.N. currently has no say over what American citizens are able to do doesn't mean they won't be able to in the future.
Watch the video below, courtesy of CNN:
—–
Follow Josh Feldman on Twitter: @feldmaniac
Have a tip we should know? tips@mediaite.com
Josh Feldman - Senior Editor