Cooper Grills Kellyanne Conway: If Hillary Is Such a Bad Candidate, Why Can't Trump Beat Her?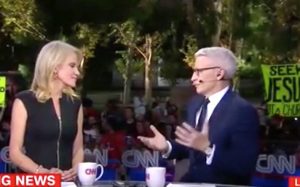 During an appearance on CNN tonight, Trump campaign manager Kellyanne Conway was pressed by anchor Anderson Cooper on one of her talking points regarding the weakness of Hillary Clinton as a presidential candidate.
After a back-and-forth over Donald Trump rhetoric on the election being rigged, Cooper brought up one of Trump's supporters telling Laura Ingraham that it "would take a miracle for Trump to win," citing how far back the real estate mogul is in the polls.
Conway first stated that she believed the polls weren't including all of Trump's voters but were including every single one of Hillary's.
She then moved on to questioning how someone who has a popular POTUS and FLOTUS campaigning for her, tons of money and a sympathetic media can't seem to pass 46% in the polls in battleground states. This led to Anderson asking her the following.
"I'm not arguing she's a the great candidate, but why can't your candidate defeat somebody who you're saying is not a very good candidate?"
This prompted Conway to repeat much of what she had just said.
"She has so many advantages," Conway argued. "She has endless money, she has a lot of the media. She has a very popular president and First Lady out there campaigning for her. I'm mystified as to why she can't get to those 52, 53% numbers in some of these states, given the disadvantages we're handed every day."
Currently, Clinton is up in the Real Clear Politics national polling average by 6.9 points.
[image via screengrab]
–
Follow Justin Baragona on Twitter: @justinbaragona
Have a tip we should know? tips@mediaite.com