Copenhagen Zoo Provokes Outrage by Euthanizing Young Giraffe, Feeding It to Lions
Hey. How you doing? Feeling good? Having a nice Sunday? Let's fix that.
A Danish zoo shot and killed a "surplus" young giraffe and fed it to lions, despite an online petition with thousands of signatures protesting the act.
The Copenhagen zoo said it had to euthanize Marius, a perfectly healthy two-year-old young giraffe, to prevent inbreeding. Bengt Holst, the zoo's scientific director said Marius didn't fit with the zoo's breeding program.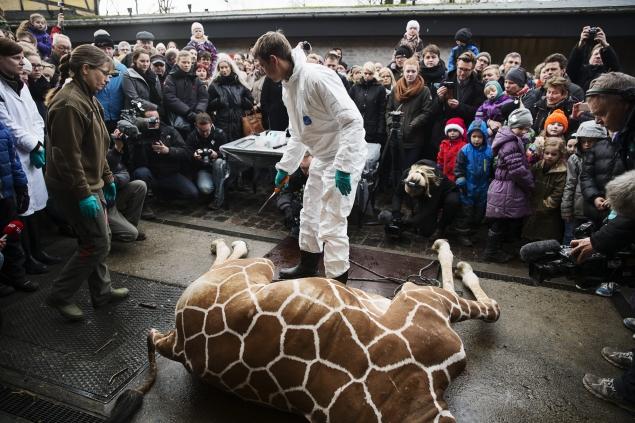 "Our giraffes are part of an international breeding program, which has a purpose of ensuring a sound and healthy population of giraffes," Holst told CNN. "It can only be done by matching the genetic composition of the various animals with the available space. … When giraffes breed as well as they do now, then you will inevitably run into so-called surplus problems now and then. If we just sterilize him, he will take up space for more genetically valuable giraffes."
The zoo said fears of inbreeding kept them from selling Marius to other institutions, and added that sterilization would adversely affect the giraffe's health.
In a seemingly macabre twist, the euthanization by bolt gun occurred in public and in front of children at the zoo. Holst said the children were not affected by the scene, and "asked good questions."
Horst said between twenty and thirty animals a year are culled due to breeding decisions. This was the first giraffe. "I do not understand the outrage," he said. "We have to ensure a safe healthy population for the future, and you can only have a healthy population if you control and coordinate your breeding efforts."
Watch the clip below, via CNN:
[Images via screengrab]
——
>> Follow Evan McMurry (@evanmcmurry) on Twitter
Have a tip we should know? tips@mediaite.com