Cornel West Warns Against the 'Santa Claus-ification' of Nelson Mandela on CNN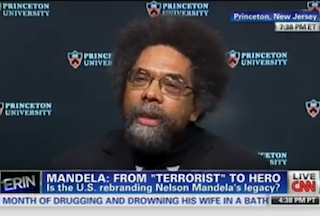 By Friday evening, nearly every cable news commentator on the planet had gotten a chance to weigh in on the life and legacy of Nelson Mandela. But none of them had a take quite like that of Dr. Cornel West, who joined Jake Tapper on CNN to denounce what he sees as the "Santa Claus-ification" of the South African leader.
Asked if Mandela's passing has caused the media to "cover up" how some people, especially those on the right in American politics, viewed him in the not-so-distant past, West answered affirmatively. "I think no doubt we are," he said. Calling Mandela a "spiritual giant, moral titan and political revolutionary," West described what we are now witnessing as a "Santa Claus-ification" of his legacy.
He explained, "We turn the revolutionary into an old man — a huggable old man with toys and a bag, smile on his face, no threat to anybody, domesticated, tame. And no longer really full of the fire."
But even at age 95, West said Mandela was still "full of the fire" and had a "militant tenderness and subversive sweetness and radical gentleness, tied to refusing to be fearful or intimidated in the face of a vicious white supremacist apartheid regime."
In the same segment, contributor Reihan Salam took on the backlash Sen. Ted Cruz (R-TX) received from his conservative followers when he posted a tribute to Mandela on Facebook. Salam said he understood the characterization of Mandela as a "terrorist" to some degree, given the fact that he was a "champion of armed insurrection against the apartheid government." But he also gave Mandela credit for choosing a "path of non-violence" later on.
At the same time, Salam said, "I think another thing to keep in mind is that Mandela's legacy is really not entirely unblemished. There are serious problems with the party that he led and there are serious problems with the people that he chose as his successors."
Watch video below, via CNN:
[photo via screengrab]
— —
>> Follow Matt Wilstein (@TheMattWilstein) on Twitter
Have a tip we should know? tips@mediaite.com