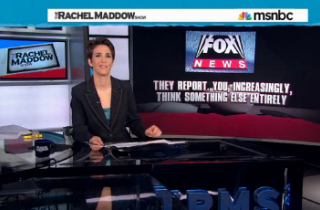 On last night's Rachel Maddow Show on MSNBC, the eponymous host did a segment exploring something we reported on last week: Fox News' lack of disclosure for several of its paid contributors who double as Romney campaign advisers.
For her examples, Maddow cited the familiar ones: former Ambassador John Bolton, ACLJ's Jay Sekulow, foreign policy analyst Walid Phares, and Karl Rove — all of whom are Fox News contributors that also have an interest in electing Mitt Romney. For many of their appearances on the network to talk about the election their ties to Romney were not disclosed.
But Maddow led off with the example of former Labor Secretary Elaine Chao, who she explained regularly appears on and "works for" the network. We cited her in our original report as a paid contributor with undisclosed ties to the Romney campaign; and Maddow did the same, adding that Chao was also recently nominated for election to News Corp's Board of Directors.
As a matter of correcting the record, however: Chao is not a paid contributor with Fox News.
During our original report, we reached out for Fox's comment and they clarified that she is, in fact, not a Fox contributor. She hasn't been chyroned as a paid contributor in recent appearances, and in the last few weeks, several Fox hosts have made it a point to mention her campaign connections as chairwoman of Asian Americans & Pacific Islanders for Romney.
Additionally, Chao's being nominated for News Corp's Board of Directors does not count as working for the network, since it is not an actual position until and unless she is actually elected to the board on October 16th during the shareholders meeting.
And so to say that Chao works for the network is incorrect. Maddow should've done her homework.
UPDATE: Several readers have pointed out that Chao's personal website and Heritage Foundation bios claim she is a contributor. According to a Fox spokesperson, that bio is no longer correct. Her bios have not been updated.
Watch Maddow's segment below, via MSNBC:
— —
>> Follow Andrew Kirell (@AndrewKirell) on Twitter
Have a tip we should know? tips@mediaite.com