Costas Conformity: Sudden Outrage on Redskins Name Puts Sports Anchor in the 'Me Too' Crowd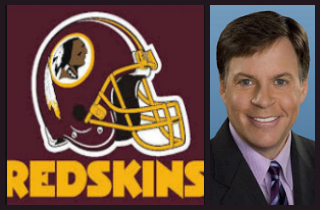 Bob Costas is one of the great wordsmiths not only in sports broadcasting, but broadcasting in general.
He's also the face of NBC Sports, which also happens to own rights to the highest-rated program on television in the form of Sunday Night Football.
Costas doesn't call the game…that's left in the capable hands of the illustrious Al Michaels. Instead, the 61-year-old handles pregame and halftime duties, with the latter allowing for periodic commentary from Costas.
Last December, Costas became Keith Olbermann 2.0, at least for one week, after doing a commentary on gun culture in America following the murder-suicide involving Chiefs linebacker Javon Belcher and his killing of girlfriend Kasandra Perkins. Costas' commentary on gun control wasn't unlike anything heard on Piers or Greta or Rachel. It was the forum that had many people irked (Costas later admitted it was a mistake to use a limited halftime forum given the depth of the conversation). Simply put, some folks enjoy watching sports and especially Sunday Night Football for the escapism of it all. After a whole morning dominated by Sunday political talk shows, many argue the last thing anyone wants to hear is more political debate. They just want to watch a damn game before heading back to work the next day.
Fast forward to Sunday night, October 13. Redskins-Cowboys. First place on the line in the NFC Least. Just a guess, but the game will show to rate higher than any this year, and therefore…a bigger soapbox than usual.
Costas began halftime using Redskins-Cowboys as a transition into his commentary on changing the Redskins name. As you may have heard, he concluded he finds the name "insulting" and "a slur" while admitting a majority of Native Americans don't take issue with it, nor the organization racist.
I mentioned earlier that Bob is 61. That said, he's been in broadcasting for nearly 40 years, entering the fray in 1974 St. Louis before hitting the big-time nationally in the early '80s. That said, the Redskins have played (including playoffs) about 640 games since Costas was given a megaphone to voice his opinion. NBC owned rights to the NFL during the start of Costas' career at the network until 1997, and again from 2006 to present day. Having that said, Costas had literally hundreds of opportunities to voice his opinion on the Redskins name during an NFL telecast.
But only after a few other prominent white sports writers and reporters came out against the name did Costas have his epiphany, find his voice on taking on Dan Snyder—the owner of a NFL's most profitable team…a team that hasn't seen even a blip in loss of revenue for using a name for 81 years that Costas now deems as a racial slur.
Of course, if he had led on the topic, as ESPN's Tony Kornheiser (formerly of the Washington Post) has since 1992 (and was basically a lone major voice on the topic in sports media until recently), that's one thing. But for Costas to raise a hand and be part of the "Me too!" crowd is, quite frankly, an obvious show of conformity for conformity's sake.
Again, as I've said in this space and on CNN, until there are mass protests outside of Redskins home games (which hasn't happened) and until Snyder's profits are threatened (which hasn't happened), and until Native Americans—where a strongly majority are either apathetic or see the team name as more of a positive than a negative–stand up as one to say "No more!", the name is never changing as long as the current owner is in charge. And that's his right.
Bob Costas is a strong, powerful voice.
An admirable, versatile broadcaster who has done it all for NBC Sports.
But on this subject, he's not only wrong in the name of political correctness, in the name of white guilt…
He's also about 40 years late in offering any opinion on the subject.
— —
>> Follow Joe Concha (@ConchSports) on Twitter
Have a tip we should know? tips@mediaite.com