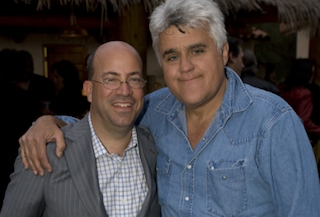 Jay Leno is fast approaching the end of the road at NBC as Jimmy Fallon prepares to take over The Tonight Show during the Winter Olympics in February (Fallon just revealed the show's new logo today). But could his next steps lead him back into business with the man who led the last disastrous, aborted Tonight Show transition to Conan O'Brien?
The Hollywood Reporter is citing anonymous sources who say CNN President Jeff Zucker, formerly of NBC, met with Leno in Burbank to discuss the possibility of a prime time or late night venture for the host on CNN. The addition of Leno to the CNN line-up would certainly fit with Zucker's publicly-discussed plans to push the network towards more entertainment and less news.
There have also been rumors that Zucker wants to create a program modeled on Comedy Central's The Daily Show for CNN. John Oliver was thought to be front-runner for that hypothetical position until he landed his own weekly show on HBO.
In the world of late night, Jay Leno's Tonight Show is about as far from The Daily Show as one can get when it comes to topical urgency. But since President Barack Obama was elected for a second term, and especially since the rollout of the Affordable Care Act in October, Leno has been beefing up his political material. This has made him a bit of a hero on the right, despite what appear to be his generally liberal personal beliefs.
While this has led some to see a future for Leno on Fox News, perhaps CNN would be a better fit. They could certainly use the ratings that would come with his loyal viewers.
[photo via Manka Bros]
— —
>> Follow Matt Wilstein (@TheMattWilstein) on Twitter
Have a tip we should know? tips@mediaite.com