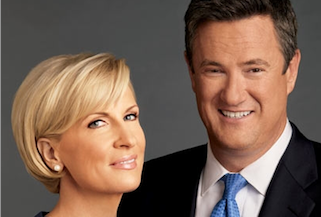 The New York Post is reporting that MSNBC's Joe Scarborough and Mika Brzezinski are looking to broaden their reach beyond the 15 hours they spend each week on Morning Joe. According to the Post's Claire Atkinson, the Morning Joe team has been in discussions about taking over the Sunday morning Weekend Today show, which airs prior to Meet The Press.
While Atkinson could not get an NBC spokesperson to comment on the record, she did cite multiple unnamed sources who claimed the push was timed to the arrival of new NBC News chief Deborah Turness. "They made a big play for Sunday Today and Meet The Press," one source said, "but Turness is not inclined to dump David Gregory."
The network show would likely bring a larger audience to Scarborough and Brzezinski than they currently receive on MSNBC. Morning Joe averaged 396K total viewers last quarter, while Weekend Today averaged 3.1 million. With brand names like these two attached, those numbers would likely go even higher.
A move by the hosts to Meet The Press would be an even bigger coup, given its impressive legacy and the high-profile guests it books week after week. And with that show recently falling behind CBS' Face The Nation and ABC's This Week for the first time since David Gregory took over in 2008, it would make sense for NBC to start looking for somebody (or multiple people) to come in a shake things up.
But could those people be Joe Scarborough and Mika Brzezinski? Their right-left split has set them apart from much of the more outwardly progressive MSNBC hosts, despite hardcore conservatives' efforts to label Scarborough a RINO. Installing the pair on the longest-running show on network television would be a bold move that would likely cause many to bemoan the MSNBC-ification of NBC News, but it would certainly get the political media world's attention.
[photo via MSNBC]
— —
>> Follow Matt Wilstein (@TheMattWilstein) on Twitter
Have a tip we should know? tips@mediaite.com