Could NBC's Statement Hint the Network Plans to Quietly Drop Hillary Mini-Series?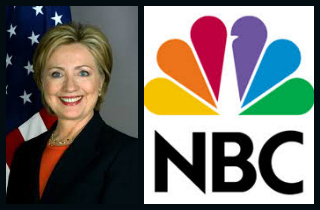 After the Republican National Committee voted unanimously to boycott any CNN and NBC-hosted GOP primary debates, an NBC-issued statement seemingly drops hints that the network could quietly kill their project altogether.

According to Deadline, NBC Entertainment president Robert Greenblatt said last week that the mini-series, starring Diane Lane, has not yet been ordered to production.
"The Hillary Clinton movie has not been ordered to production, only a script is being written at this time. It is 'in development,' the first stage of any television series or movie, many of which never go to production. Speculation, demands, and declarations pertaining to something that isn't created or produced yet seem premature."
This came after Fox TV Studios announced it was no longer in talks to produce the project. Such hedging in a public statement leads many to assume the project may never make it to production at all. It also signals that the network could be looking for a safe "out" from the project.
FTVLive's NBC sources suggest the project will die a slow, quiet death in development hell. Our own sources at the network emphasize that a large portion of projects don't make it into production.
NBC had announced the four-hour mini-series project to reporters during the Television Critics Association press tour earlier this month. The series, titled Hillary, has Courtney Hunt attached as writer and direct, with Lane in the lead role. The series will "recount Clinton's life as a wife, mother, politician and cabinet member from 1998 to the present."
Whether it will actually die in development or live on in spite of the RNC's protests remains to be seen. As always, we'll let you know when we hear more.
[photos via NBC/State Department]
— —
>> Follow Andrew Kirell (@AndrewKirell) on Twitter
Have a tip we should know? [email protected]