Coulter And Hannity Rip Tsarnaev Welfare Payments: 'Zero Immigrants Should Be Collecting Government Assistance'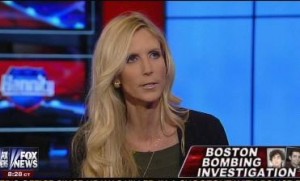 Ann Coulter sat down with Sean Hannity tonight to react to new reports that the family of the Tsarnaev brothers, the two Boston bombing suspects, received roughly $100,000 in welfare payments from the government. Coulter and Hannity agreed that it's a problem when people are coming to America from nations that resent the U.S., with Coulter declaring that no immigrants should be receiving welfare payments to begin with.
RELATED: O'Reilly Blames Lack Of Gov't Oversight For Tsarnaevs Getting $100,000 In Welfare, Tells Colmes To 'Shut Up'
Hannity declared that taxpayers "were footing the bill for terrorism," and asked how the United States will be able to prevent people like the Tsarnaevs from entering the country in the first place. Coulter said there are roughly a dozen immigrants who have committed mass murders in the United States in recent years. She added that some people granted asylum in the U.S. might have been targeted by their governments for the right reasons.
Hannity acknowledged "we can be pretty stupid as a country," expressing concern with someone coming to America, for example, after living for years in a repressive nation like Saudi Arabia. Coulter argued that in addition to the cultural factors, the U.S. needs to consider what individual immigrants would contribute to the nation, and declared that there need to be certain standards for people to be allowed into the country.
"Zero immigrants should be collecting government assistance. It seems to me–can't we all agree you're not the kind of immigrant we need in America here. Zero immigrants should be committing mass murder."
Coulter said that the United States does have its share of "native-born losers, murderers, [and] welfare recipients," but declared that the nation needs to deal more with them and not have to worry about potential threats from abroad.
Watch the video below, courtesy of Fox News:
—–
Follow Josh Feldman on Twitter: @feldmaniac
Have a tip we should know? [email protected]
Josh Feldman - Senior Editor