Coulter And Hannity Tear Apart Holder For Off-The-Record Meeting: Trying To 'Schmooze' And 'BS' The Media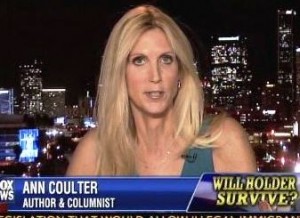 Many journalists and news organizations very vocally stood in opposition to meeting with Attorney General Eric Holder off the record. Sean Hannity and Ann Coulter piled on Holder for digging himself deeper in a scandal that they speculated may lead to his departure from the Obama administration. Holder called the administration's leak targeting as "selective moral outrage," while Coulter accused Holder of trying to "schmooze" and "BS" the press.


RELATED: MSNBC Contributor Michael Eric Dyson: Eric Holder 'Is The Moses Of Our Time'
Hannity noted that some media outlets were okay with an off-the-record meeting. Coulter wryly commented that POLITICO doesn't care about the White House reading their e-mails since all their e-mails were going to the White House anyway. She also suggested that Fox News should really stick it to Holder and send James Rosen's parents to the meeting. When Hannity brought up the "selective moral outrage" of which leaks the Obama administration has targeted, Coulter noted that the only reason the White House targeted the Associated Press was because they didn't want to be scooped.
Hannity brought up how it looks like Holder lied to Congress when he explicitly denied knowledge of any press investigations. Coulter said Holder could easily go over this, because "Obama has certainly dumped other friends and officials" before. She did point out that any such investigation should not be up to Holder or Congress, but handed off to a special prosecutor. She said, "It looks like crimes have been committed," but the question now is how high they went.
Hannity brought up a poll showing most Americans, even a majority of Democrats, support a special prosecutor to investigate the IRS tea party targeting scandal. Coulter agreed, saying this isn't just some "little corruption case" of people being paid off by lobbyists, it's about the agency in charge of collecting taxes unfairly targeting certain groups.
Watch the video below, courtesy of Fox News:
—–
Follow Josh Feldman on Twitter: @feldmaniac
Have a tip we should know? tips@mediaite.com
Josh Feldman - Senior Editor