Coulter And Hannity Tear Into Obama Admin. For Systematic Targeting Of Conservatives And Fox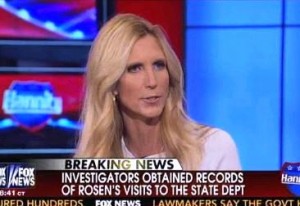 Ann Coulter and Sean Hannity tonight were fired up over the news of the Justice Department targeting Fox News reporter James Rosen and other parts of the cable news organization. Hannity started off the discussion by remarking, "Wow, this is Big Brother." Coulter tore into the administration for targeting Fox, and mockingly invited the DOJ to tap her phones so they can hear her unfiltered thoughts on what they're doing.
Coulter pointed out that under the Bush administration, media organizations like The New York Times revealed national security secrets and did not get targeted as Rosen was. She also slammed the Obama administration for the Associated Press phone seizure, saying they only acted because "they didn't want to be scooped," dismissing the national security argument.
RELATED: Fox Host Shepard Smith: Gov't 'Went Into Our Computer Servers At Fox News,' Didn't Tell Us
Hannity brought up how months ago, there were several high-profile leaks from the Obama administration, and Coulter said they're only okay with leaks that reflect well on the president. Hannity was bewildered that the White House would so blatantly target Fox News, and Coulter pointed out that when you combine this and the fact that the IRS was targeting tea party groups, it doesn't look good for the administration.
In the second segment, Coulter said the Oklahoma tornado has become the media's excuse for halting their scandal coverage. Hannity targeted press secretary Jay Carney for denying the White House knew about the IRS scandal, when it has now been revealed that members of the administration knew before the news went public.
Coulter ended the segment mockingly inviting the DOJ to tap her phone calls, with Hannity joking, "they might catch us cursing occasionally."
Watch the video below, courtesy of Fox News:
—–
Follow Josh Feldman on Twitter: @feldmaniac
Have a tip we should know? tips@mediaite.com
Josh Feldman - Senior Editor