Coulter Bashes 'Sleazy' Dems, Declares Voters Should 'Throw Out' GOPers Who Back Amnesty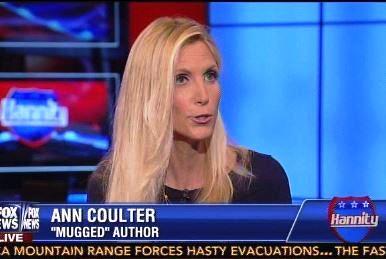 Ann Coulter joined Sean Hannity at the top of his show Thursday night to tackle how well the Republican party is fighting back against the Democrats on Obamacare and immigration reform. Coulter slammed the "sleazy methods" used to pass Obamacare, called for a ceasefire in the intra-Republican battle over a government shutdown, and told Hannity that any Republican who backs amnesty should be thrown out immediately.
Coulter predicted if immigration reform squeezes through Congress, "Obamacare will never ever ever be overturned" because of how popular it is with the Hispanic community. She cautioned Republicans against fighting amongst themselves over a potential government shutdown to take a stand over defunding Obamacare. She lamented, "I hate when Republicans fight one another," and slammed the idea anyone hesitant about the idea is a RINO or anyone who loves it is a "reckless lunatic."
Coulter impressed the importance of getting Democrats voting on the record to turn over everyone's health care to the IRS. Hannity suggested instead of defunding Obamacare, for the time being Republicans hold a vote to delay funding. Coulter doubted much would get past the Senate, though given the number of Democrats up for election, anything could happen.
She also credited the new conservative media landscape for the deck not being as stacked against the GOP as it was the last time the government shut down and they got the brunt of the blame. Hannity expressed hope in a new "revitalized Republican party" that may be spurred by the RNC putting its foot down on NBC and CNN. Coulter went right back to the amnesty issue, saying the Democrats can't win with the American people so they're hoping to bring in a whole new voting bloc that agrees with them. She declared, "I'll tell you who to throw out: any Republicans who support amnesty."
Watch the video below, via Fox News:
—–
Follow Josh Feldman on Twitter: @feldmaniac
Have a tip we should know? tips@mediaite.com
Josh Feldman - Senior Editor